We have prepared a detailed guide for those who wonder 'where is Cappadocia'. Cappadocia is truly a fascinating place, with landscapes that seem hand-modeled and cities tucked into swirling volcanic rock landscapes. Cappadocia is one of the places to visit at least once in a lifetime, a wonder that doesn't seem to belong to the earth but to the moon.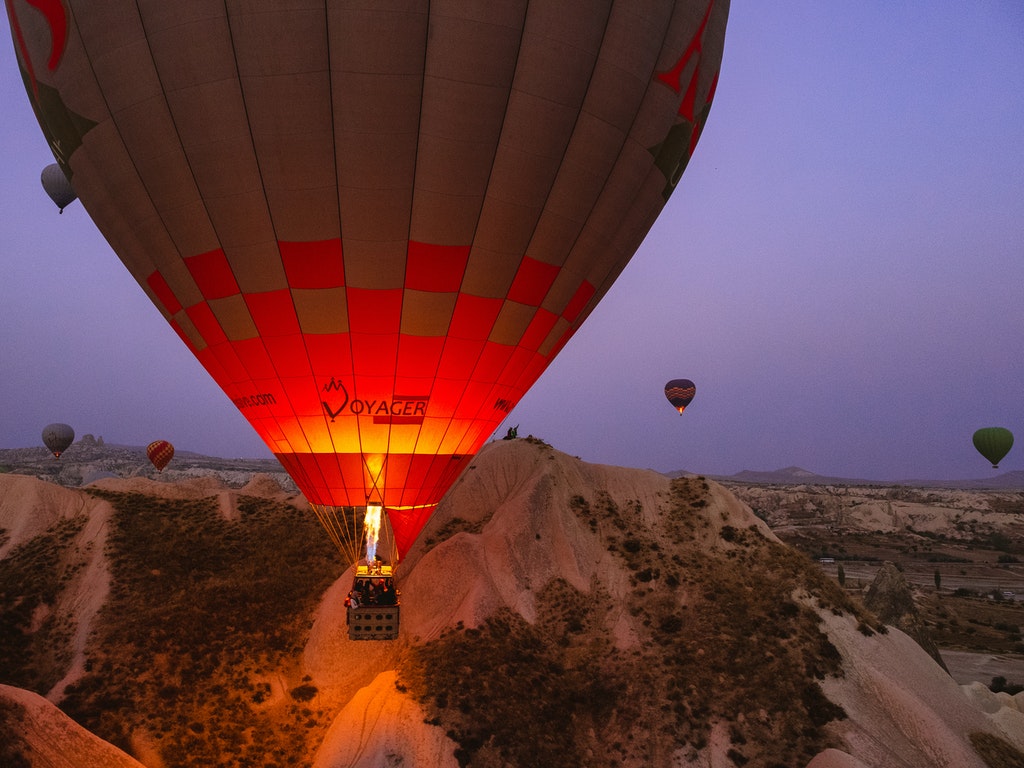 You will have the opportunity to see villages carved into the hills, Byzantine churches in the rock with breathtaking frescoes, and labyrinthine underground cities, where the first Christians once hid from invaders. If you plan a tour to discover this magical Turkish region, here is everything you need to know. We have created a guide to what to see, get there, and when to go.
Where is Cappadocia Located?
To reach Cappadocia, you will have to fly to Istanbul and take a direct flight to Kayseri or Nevşehir in Cappadocia (the duration is about 1.5 hours), or you can take a bus from Istanbul, which takes about 11 hours.
The best time to visit this place is in the fall, spring or summer when the temperatures aren't too cold for traveling. During the winter season, the minimum temperatures can even drop below- 15 ° C. If you consider a summer trip, you should know that July and August are the hottest months (August is also the driest month).
What Can Be Done in Cappadocia?
One of the characteristics of Cappadocia, in addition to being experienced by many different cultures, certainly concerns the physical and geographical aspects of the earth. We are dealing with a particular and beautiful region that seems to have just come out of a storybook.
If you are planning to go to this magnificent place, indeed you are already aware of how difficult it can be to describe the beautiful landscapes of which the region is characterized.
Before focusing on the local attractions, you need to know that mother nature has worked hard to please your eyes and souls. The inactivity of two volcanoes, Hasan and Erciyes, has given rise to many particular formations, lava, and more. Among the landscapes and places not to be missed for any reason, we indeed find the following:
The fairy chimneys
Hot air ballons
Goreme with its open-air museum
Çavuşin
Avanos
Uçhisar
Devrnet Valley
These are undoubtedly the must-see places in Cappadocia, but remember not to focus only on what to visit, as everywhere there will be something to admire with astonished gaze, from guesthouses carved into the rock to mushroom-shaped fireplaces and so on.
How To Get To Cappadocia?
Nevsehir is the center of the Cappadocia Region, which takes its name from Katpatuka, which means 'Land of Beautiful Horses' in Persian. To reach Cappadocia, you must first go to Nevsehir province. Nevsehir province is a province located in the middle of the Central Anatolian region of Turkey. Therefore, transportation is provided very easily. It is possible to go to Nevsehir by road or airway. For those who prefer a bus to go here, there are direct bus services to Nevsehir.
Cappadocia, one of Turkey's most popular tourist destinations, is a place that provides a visual feast with hot air balloon tours. With its unique houses carved into the rocks, churches, underground cities, colorful balloons, famous wines, and magnificent sunsets, Cappadocia has a fascinating and mysterious atmosphere.
Also to the highway, the city can be reached by air. The closest airline to Nevsehir by air is in Kayseri. After arriving in Kayseri, it is possible to go to Nevsehir by taxi or service vehicle here. If you are going to Nevsehir with your private vehicle, you can easily go by following certain road routes.