Unique experiences await you with Cappadocia hot air balloon. Fly in a hot air balloon over Cappadocia and immerse yourself in a breathtaking landscape. Not sure what the price is for a Cappadocia hot air balloon ride? Here is a complete guide of everything you should know if planning this experience.
How To Get To Cappadocia?
Due to Cappadocia's location, getting there by bus or plane isn't easy but still highly feasible. Furthermore, the low population density means limited public transport, which certainly doesn't help. But nothing is impossible! The Cappadocia region deserves to be explored!
However, if you're wondering how to get to Cappadocia by bus, keep in mind that most bus companies have connections to Nevşehir and Göreme. Traveling from Istanbul or Izmir would be the more extended option (12 hours), while if you're in Ankara, it will take 5 hours.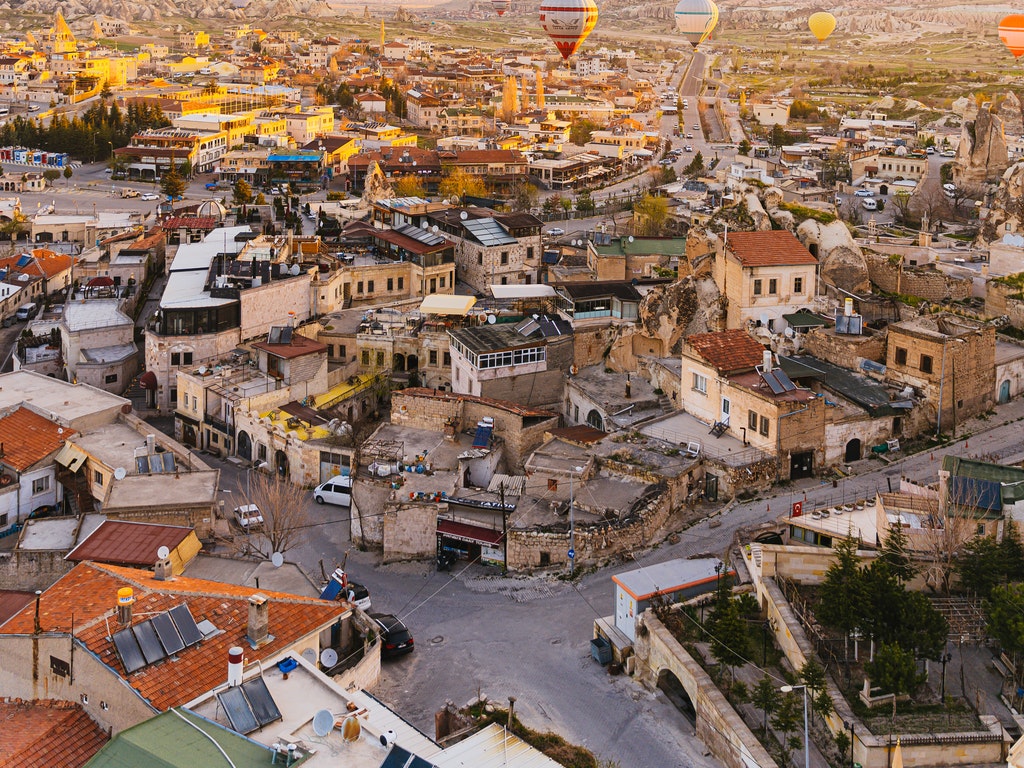 The fastest (but also expensive) way to get to Cappadocia is by plane. You can land at two main airports at Kayseri Airport, an hour's drive from the center of the Cappadocia region (it's easy to arrange a shuttle bus from Kayseri Airport). The other airport is Nevşehir Airport, located in the city of Gülşehir in Nevşehir province.
If you prefer not to worry about planning how to get to Cappadocia, consider booking a tour. Virtually all tours that depart from Istanbul include transportation and, most importantly, a balloon ride.
Cappadocia Hot Air Balloon Costs
Riding a hot air balloon over Cappadocia is really worth it. Everyone who comes here speaks positively about their hot air balloon experience, especially if you get breathtaking views as a reward! Cappadocia hot air balloon can be expensive, but it all depends on what you want to include in the price.
Cappadocia hot air balloon cost varies according to companies. The price depends on the duration of the flight, the time of day, and whether you book in the high season. Usually, the minimum flight time is one hour, up to 3 hours. The price will decrease if you book a group flight, but it can increase if you include other guided Cappadocia tours.
Many Cappadocia hot air balloon tours include an overnight stay in Cappadocia. With this ticket type, you can visit the Cappadocia region, try traditional Turkish dishes made by the local people, stroll among the vineyards and pistachio trees, go for a walk, and have many more traditional experiences.
If your time is limited and you want to travel to distant places, you may consider going on a tour. You can take a tour organized through your hotel, usually for an affordable price, or arrange a time through many online tour companies. They typically take a standard route but be sure to confirm what's included in the price before accepting anything.
Is It Safe To Ride A Cappadocia Hot Air Balloon?
Some people may find the balloon a bit dangerous, which is understandable. Apart from that, the take-off is delicate, you don't even notice it, and soon you will want to take pictures from there!
In any case, it's advisable not to go on a balloon when there is a strong wind, it can be dangerous, and in any case, the companies will advise you when it's safe.
The Best Time for Cappadocia Hot Air Ballon
Make sure you choose the right time to visit Cappadocia to avoid the crowds. Spring and fall are the best times to visit, temperatures are generally moderate, and there are fewer crowds. The weather can be scorching from July to September, and visits can be expensive.
The best time of day to go in a hot air balloon is sunrise or sunset- you will never forget how fascinating the view is from up there!
Travel tips
Don't miss the opportunity to stay in a cave hotel. There are different options, of varying quality and price, to stay overnight. If you're a backpacker, you can find some simple and affordable accommodation. If you're looking for a high-level experience, also in this case, there are many options. You can sleep in a cave with all the comforts of home and a traditional hotel.
Transport is somewhat limited since the Cappadocia area is vast and not densely populated. Some minibusses take you to nearby towns, but they often only run once or twice a day. Make sure you have the schedule in advance and have planned your route.