Cappadocia Goreme is the most visited region of Cappadocia, which welcomes thousands of visitors every year. Goreme, which is approximately 13 km away from Nevsehir, is also home to many churches and monasteries as it is one of the oldest settlements in Cappadocia.
This place, an Open Air Museum surrounded by valleys and fairy chimneys, is one of the most frequented spots for tourists.
Places to Visit in Goreme
National Park
Open Air Museum
Observation Terraces
Pigeon Valley
National Park
National Park, which welcomes millions of tourists, is huge. In this region, which hosts both a deep-rooted history and natural beauties, there are fairy chimneys on one side and valleys where nature walks are made on the other.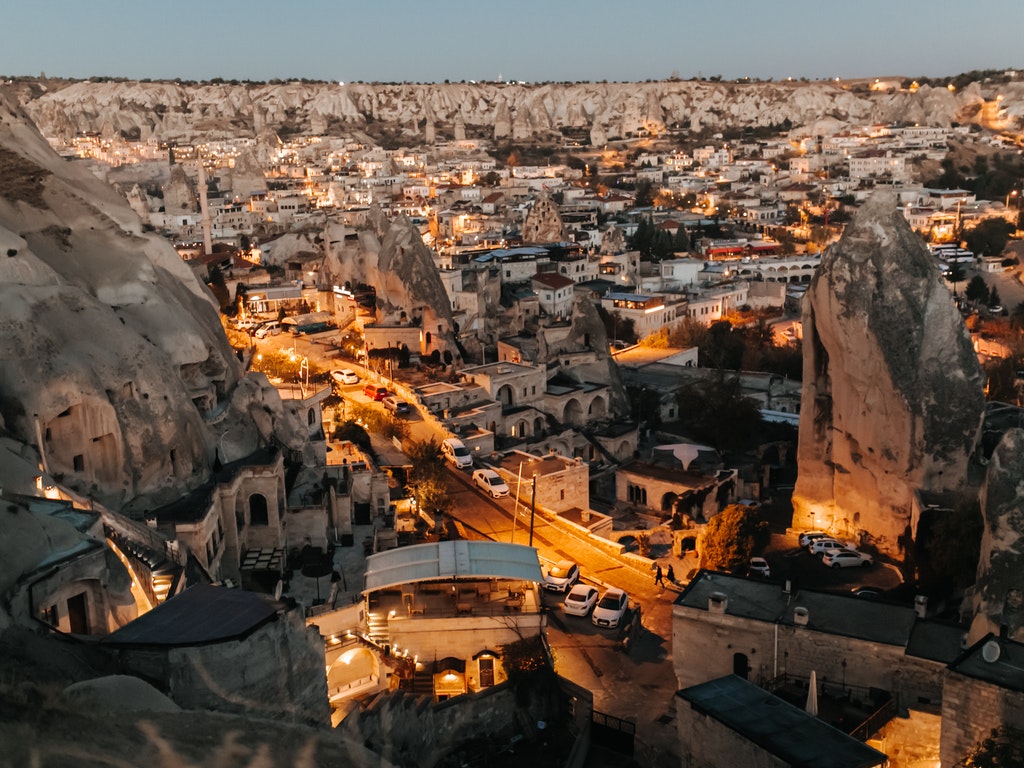 Goreme Open Air Museum, Zelve Ruins, Ortahisar, Urgup and Uchisar settlements, and Cavusin villages are located in National Park. The national park, which starts within the borders of the district, is located 10 km from Nevsehir city center. Some businesses offer various accommodation alternatives such as camping, caravan, and hotel in the areas close to the national park.
Open Air Museum
Open Air Museum is an important place to visit if you are thinking of going to Cappadocia. Among the places to visit in Goreme, this museum has hosted an intense monastic life for many years.
As soon as you enter the Open Air Museum, you encounter a monastery for girls and boys. St. Basil's Chapel is located at the entrance of the museum.
Observation Terraces
The viewing terraces in National Park, located in the hilly region of tihs place, have become extremely popular. You can sit in the restaurants and cafes around here, watch the magnificent views and enjoy a nice meal and drink. The Esentepe viewing terrace is the most popular among them.
Pigeon Valley
Pigeon Valley, one of the most beautiful places in Goreme, is also one of the longest valleys in the region. This valley takes its name from the dovecotes carved into the area.
Vasil Creek flows through the valley. During the tour, you will have the opportunity to see the famous scenery and pigeons of the region and examine the historic structures. Güvercinlik Valley, located between Uchisar and Goreme, has two entrances.
How to Get to Goreme?
Goreme is 750 km from Istanbul, 305 km from Ankara, 780 km from Izmir, 60 km from Kayseri, and 12 km from Nevsehir. After reaching Nevsehir and Kayseri by plane and by land, it is possible to reach Goreme by minibusses departing from these places.
You can reach Goreme from the airport in half an hour by minibus or bus. Of course, another way to go to this place is to take a taxi from the center, airport or bus station. If you have a limited budget, you can find out the taxi prices beforehand, or even find someone to go to the same place with you and share the road.