You should definitely go to the Cappadocia hot air balloon festival to spend a special day and save memories. The Cappadocia hot air balloon festival has been attracting tourists worldwide for a long time.
This event really makes Cappadocia a much more special place with its excellent views and unique architecture.
What is Cappadocia Hot Air Balloon Festival?
Cappadocia hot air balloon festival or Turkey balloon festival is a critical organization held regularly every year and consists of many different events.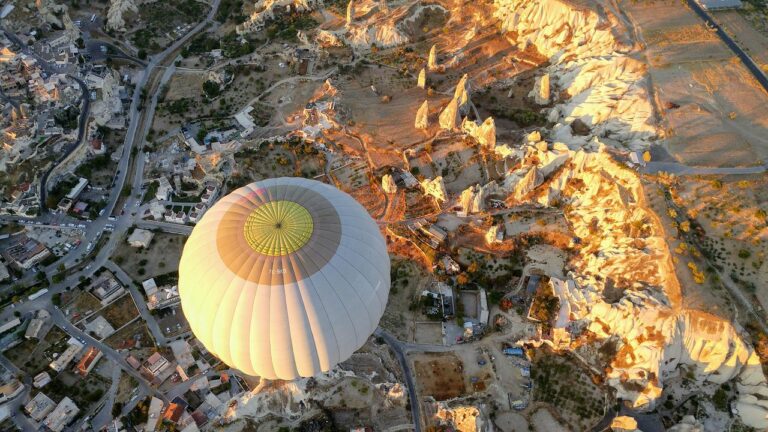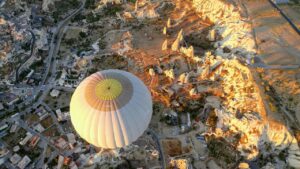 During this festival, Cappadocia welcomes thousands of local and foreign tourists.
When is Cappadocia Hot Air Balloon Festival 2023?
Cappadocia hot air balloon festival was between 21, 22, 23, and 24 July 2022. Also, these days are the best time to visit Cappadocia.
But 2023 balloon festival new date is August 4 – 12 .
You can book festival package with our travel company.
Cappadocia hot air balloon festival's daily ticket price is will uptade 2023 ( waiting new price ) ….. TL, and the combined ticket price that will cover the whole program is will uptade ( waiting new price ) 2023 …… TL.
Events at the Cappadocia Hot Air Balloon Festival
During the hot air balloon festival, you can easily see thousands of hot air balloons filling the sky. This unique experience will be an exciting sight for many tourists. In fact, if you are staying in Goreme, it will be enough to go to your hotel room window. You will witness the unique view of the balloons from the window.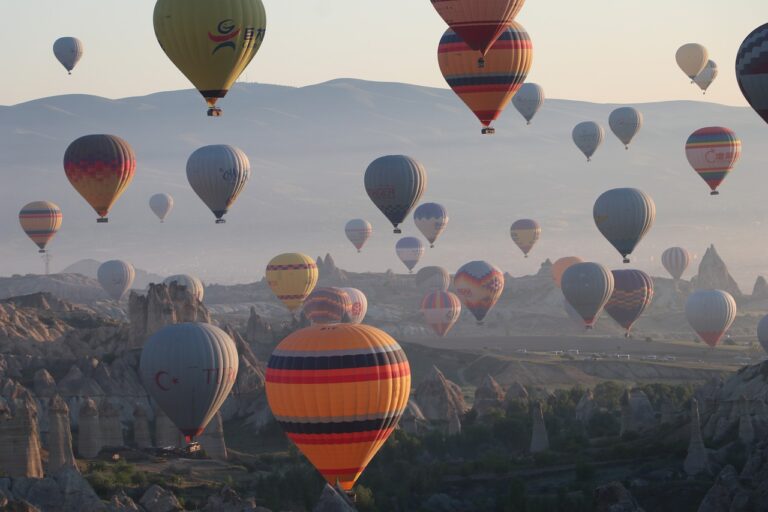 If you want an exciting experience that will remain a memory for the rest of your life, you should definitely go to the Cappadocia hot air balloon festival. This organization has been attracting thousands of tourists from all over the world for many years.
At this festival, you will also see balloons of huge sizes and shapes. You can also combine your holiday with the festival because these dates are the most beautiful months of Cappadocia. You can also see all the natural beauties near Cappadocia during the festival.
What Events Be Will There at the Cappadocia Hot Air Balloon Festival?
You can participate in excellent activities at the Cappadocia hot air balloon festival. There will be many activities from Cappadocia's local dishes to entertaining competitions and concerts to parties.
Many bands, singers, and DJs will also give great performances during the organization. All of these aren't just local. Every year, many famous artists from different parts of the world perform at the Cappadocia balloon festival.
Where to Stay for the Festival in Cappadocia?
You came to Cappadocia for the festival and are looking for a place to stay. The Cappadocia region isn't very large, which makes your choice easier. All areas are in a short circle. The distances are therefore very short. Among the places you can evaluate for accommodation, there are important locations such as Goreme, Uchisar, Urgup, Ortahisar, Avanos, and Mustafapasa. You can get a general idea about the six prominent locations close to each other on our website.
However, be careful when choosing a hotel. Read reviews about the hotel. We always recommend making a reservation 2 or 3 months in advance if possible. Obviously, prices can fluctuate throughout the year and can be much higher if you book short distances.
There are some basic features you should consider for Cappadocia hotels:
Due to the nature of the city and the fact that there are many hotels dug into the rock or half-excavated, the rooms of each hotel are different. For example, a hotel with ten rooms can have both a low-budget solution and an ultra-luxury solution with significant price differences. That's why reviewing the hotel's room-by-room offers is good and understanding exactly which room to book. You may be booking a beautiful hotel but an ugly room or a secret hotel.
You can tell the type from the names of both the hotels and the rooms. Specifically, a cave means a place carved into the rock. Mansions are elegant period structures, usually stone and wood. It is essential to keep in mind that we don't recommend cave accommodation for claustrophobic patients. Even those with mild claustrophobia or who don't know they suffer from it may feel uncomfortable in their cave stay.
If you have any questions about the hotel and want to get help, you can contact us immediately.
When is Cappadocia balloon festival in 2023?
We estimate date is between 21, 22, 23, and 24 July. But there is no certain date yet.