Nevsehir Cappadocia locates in the center of Turkey, in the Cappadocia region. Under it is the largest underground city in the world, whose age is about five thousand years. Notably, the cave network was found quite recently, in 2013.
Another attraction of Nevsehir is the complex built by Grand Vizier Damat İbrahim Pasha in the 18th century. It contains a madrasa, baths, and a library to which the monarch donated two hundred scrolls from his personal belongings. The dominant feature of this community is the mosque built in 1726.
It has three gates and a minaret with a height of 44 meters. The interior of the building paints with delicate floral patterns. Nevsehir Cappadocia is known for its museum displaying well-preserved archaeological artifacts such as plates, tombstones, statues, decorative elements, jewelry, clothing, carpets, and rugs.
How to Go to Nevsehir?
Nevsehir Cappadocia Airport is 30 km from the city center. Turkish Airlines flights operate to Cappadocia airport, including Istanbul.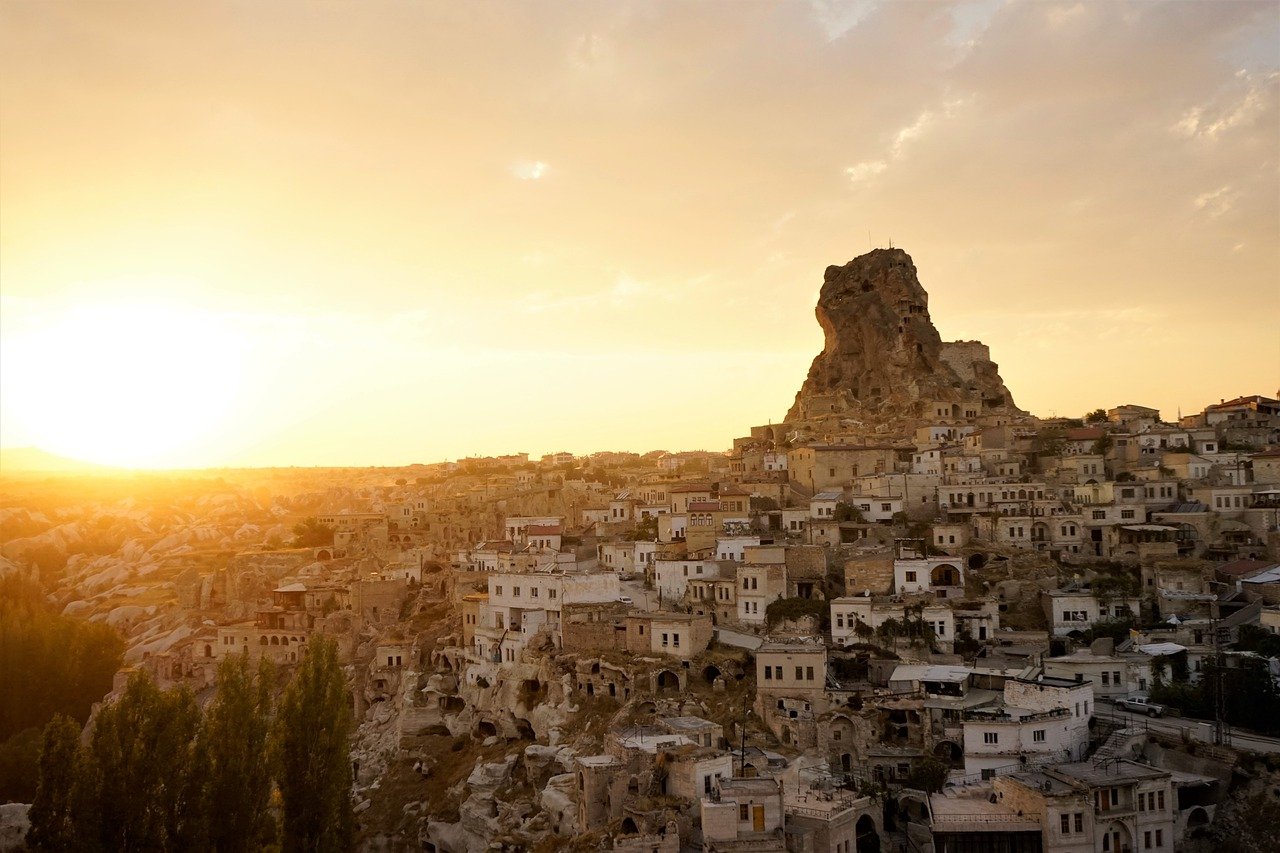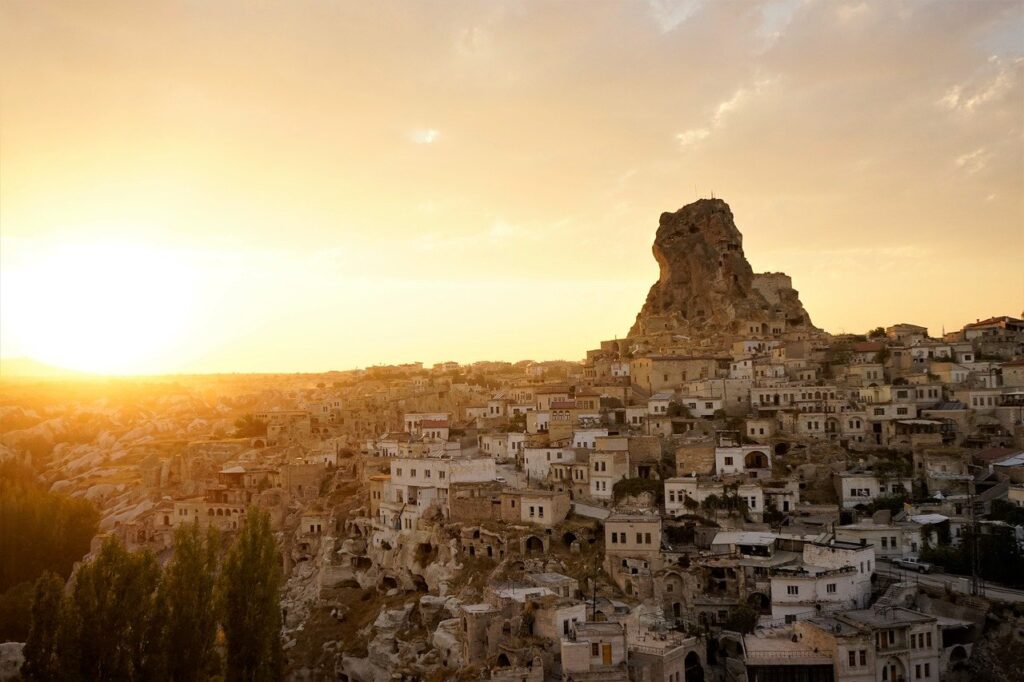 You can reach the city from the airport by bus, minibus or taxi.
Buses arrive in Nevsehir from the rock city Goreme (10 km from Nevsehir) and the underground cities of Kaymakli (18 km from Nevsehir) and Derinkuyu (29 km from Nevsehir).
Places to See in Nevsehir
The long road to the ruins of the Ottoman Castle is quite pleasant, but only a few battlements remain from the castle itself. In the southeast, there are slums of the village of Muskara, which has 80 households and a population of 300. Here are the places you should see in Nevsehir:
Damat Ibrahim Pasha Complex (Nevsehir Cappadocia)
Grand Vizier Damat İbrahim Pasha, who ruled these lands in the 18th century, ordered the construction of an administrative-religious complex in the city, which would later take his name. There are madrasah, mosques, student canteens, schools, libraries, Turkish baths, and caravanserai on its territory. The complex is a living example of the Tulip (Renaissance) Ottoman architecture.
Nevsehir Cappadocia Castle
On the city's highest hill, a castle was built thousands of years ago. Now the walls, five towers, and some outbuildings have been preserved from it. The area has municipal parks and observation platforms from which the city can see perfectly.
Greek Quarter
The Greek diaspora lived in this place and was exiled from the city due to pogroms against Greeks and Armenians at the beginning of the 20th century. All that remains of the Hellenes is a quarter of neat Greek houses, a bath, and Orthodox churches.
Nevsehir Cappadocia Museum
Would you like to look at extinct animal remains or artifacts from dozens of peoples who owned Nevsehir? You should definitely enter the city museum.
Nevsehir Cappadocia Dungeons
Some parts of Nevsehir dungeons discovered in 2015 or previously known are open to visitors. You can find out where they are from residents or local tour operators.
Shopping in Nevsehir
Nevsehir has many shopping and entertainment centers (located in the city center) and dozens of large chain supermarkets of Turkish brands. There is no point in describing their location and variety as standard. There are also grocery, clothing, and fish markets.
Note: On certain days of the week, a magnificent oriental bazaar is set up in the city where you can buy all kinds of things. You can find the location at the hotel or ask any resident.
Touristic Places of Nevsehir
Nevsehir Cappadocia has many historical and natural monuments on its territory and isn't far from it. There are museums, including open-air museums. Tourists take with them vivid impressions and hundreds of color photographs.
So, what to see in Nevsehir?
Take a few days to get acquainted with an unusual city: There are many miracles here. Be sure to visit the city museum. An exciting exhibition locates in the building of the cultural center. Archaeological finds from the Neolithic, Bronze Age, Byzantine, and Roman periods are presented. Guests will be interested in ancient weapons, a marble sarcophagus, old tombstones, clothing, oil lamps, carpets from the Ottoman era, and thousands of other exhibits.
Its proximity to ancient cave settlements and the presence of its unique attractions haven't only earned Nevsehir a reputation as a viticulture and carpet weaving center. The tourism industry is developing rapidly. Modern hotel complexes and mini-hotels have been built in the center—the facilities are designed for a different number of guests. Business people will be able to combine fun and work in one of the best convention centers. Tourists, who come for vivid impressions, will find hotels in the national style.
Where Can You Stay in Nevsehir?
There are many places to stay in Nevsehir. For example, you can stay in a fairy chimney hotel or choose a 5-star hotel. For this, it will be sufficient to contact us.
Where is Nevsehir?
Nevsehir is a city located in Turkey. Nevsehir is in the Cappadocia region.
How far is it from Nevsehir to Cappadocia Distance?
There is actually no distance between Nevsehir and Cappadocia. Because Nevsehir locates in the Cappadocia region. You can also pass from Nevsehir to Urgup for the Cappadocia hot air balloon.