To complete the picture in Cappadocia, you should visit Derinkuyu underground city after visiting the valleys. There're about two hundred underground cities in Cappadocia. But the biggest is Derinkuyu.
This follows by Kaymakli, which is 10 kilometers away from Derinkuyu. Small ones are scattered all over Cappadocia, including not far from Goreme. But they're less attractive.
Combining an independent visit to this underground city with a walk in the Ihlara valley is convenient. You can also see Derinkuyu with our Cappadocia Green Tour option.
Derinkuyu Underground City History
Derinkuyu underground city is a cave carved into soft tuffs connecting underground chambers designed for various purposes. The city is enormous, with 8 floors, going down to a depth of about 60 meters (down to groundwater). Experts believe that around 20,000 people could live here, along with cattle and supplies that people kept underground.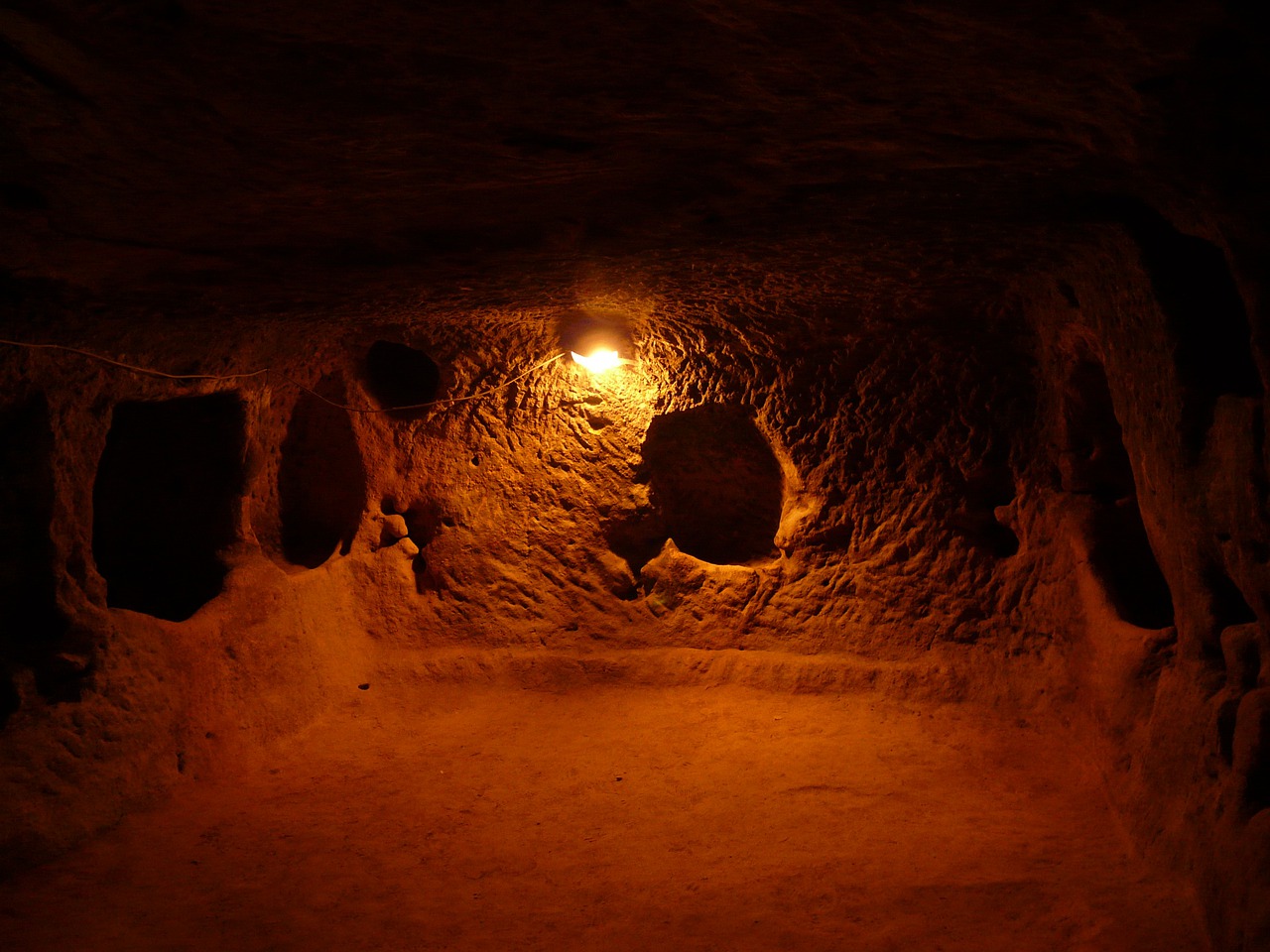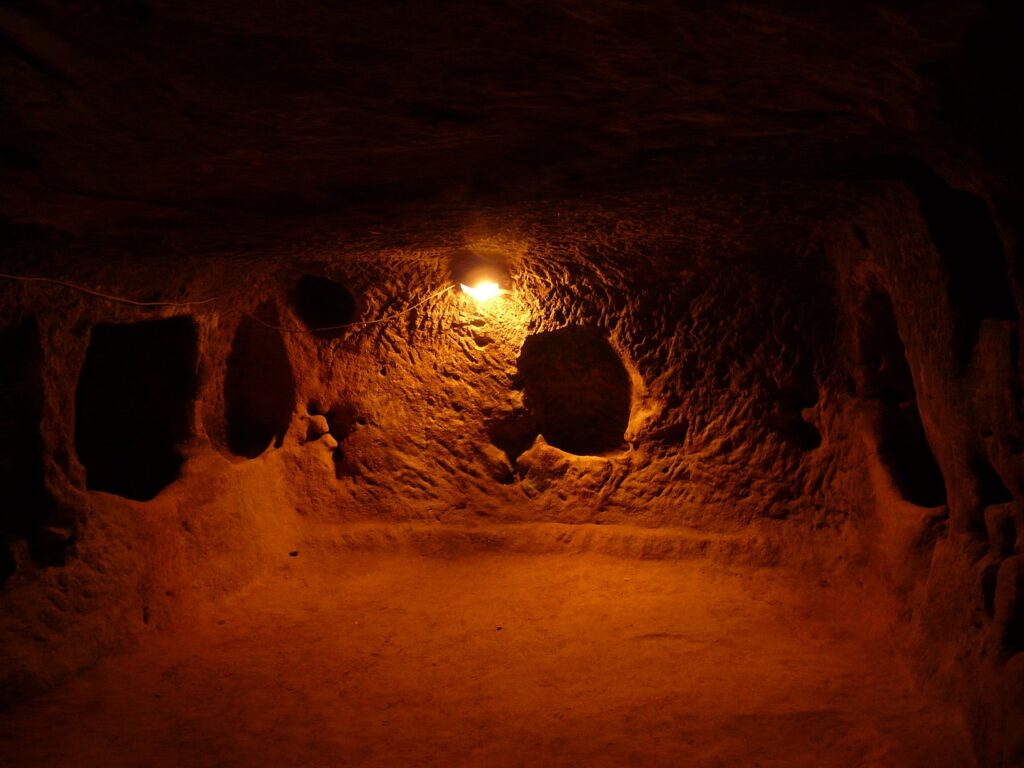 This city was discovered by chance in 1962 by a resident who ripped off the wall of the house and found a mysterious room behind it. This person continued digging and discovered a complex system of tunnels with additional cave chambers. Archaeologists became interested in the find, and two years later, authorities opened the city to tourists.
This city still has many secrets. Experts could not even pinpoint the actual dimensions. There're versions that only a tenth of the entire town has to discover, and there may be 4 more hidden floors. Some brave researchers claim that the city has 20 floors and 60 thousand people live there. Considering that the Derinkuyu underground city in Cappadocia is connected to another underground city, Kaymakli, by a 10-kilometer tunnel (currently impassable due to blockages), the number of inhabitants of a metropolis of 60,000 seems quite reasonable.
Even more uncertainty regarding the exact age and origin of the city. Someone suggests that Derinkuyu began to create 20 centuries before the birth of Jesus, and someone believes that the town was only 27 centuries old. In any case, they're both a perfect age. It isn't clear how people use this place! They lived permanently or temporarily when it was necessary to hide from the enemy—the author of the creation of the city attributed to the Hittites, Phrygians, and Persians. It is only known that the last inhabitants were Christians, who somehow expanded the town.
The underground city, of course, has an ingenious device. People built in such a way that it is incredible how even the people of that time were able to do it. What are aeration shafts and wells with water? But most of all, the architecture of the passages is impressive, which aims at destroying an unexpected guest, while the inhabitants themselves are well oriented there. So be careful and don't go to places you don't need.
The city has such buildings: Wineries, living rooms, temples, stables, kitchens, meeting places, schools, wine cellars, chapels, bakeries, canteens, oil-pressed rooms, various workshops, armory. There is even an underground cemetery.
People are still wondering about these stone doors that close the tunnels and all the floors. You can see the same in a rock church in the Zemi valley near Goreme.
Tips for Derinkuyu Underground City
The underground city currently has five floors, or parts of it, not even floors, open to the public. These areas illuminate by electric lamps but are still quite dim inside. It will not be superfluous to take a flashlight to illuminate dark places.
Narrow aisles can cause claustrophobia in people prone to it.
Local people built the city, so the enemy was lost. Sometimes there are dark passages that are not closed with bars. Under no circumstances should you poke your head into these passages so as not to get lost underground.
As you go down to the lower floors, you will see that the air is getting colder. A sweater or windbreaker will help you with this.
The entrance is in a building with turnstiles. There is no particular place to leave a large backpack, but you can ask, and the items will protect in the pantry.
The exit from the city isn't far from the entrance, so the visitor is surprised to come out from a slightly different place.
How to Go to Derinkuyu?
The answer is straightforward if you ask how to get to Derinkuyu underground city! Let's explain by thinking that you came from Goreme.
First of all, you can take a minibus from Nevsehir. The bus will bring you to the stop where you need to transfer to another minibus to Derinkuyu city (32 km). Derinkuyu may be the last, or the bus may be going further. To warn the driver to show him where to land.
When is Derinkuyu Underground City Open?
Derinkuyu underground city is open every day. It is open between 08.00-19.00 from April to October and between 08.00-17.00 from November to March.
Do People Live in Derinkuyu Underground City?
Ancient people lived in Derinkuyu underground city for many years. But no one lives here right now.
Where is Derinkuyu Underground City?
Derinkuyu is located in Nevsehir, Cappadocia.