If you want to honeymoon in Cappadocia, you're in the right place. Honeymoon is the most extraordinary and magical journey of your life. The first journey you will embark on by sharing a single surname and a life for two with your loved one.
We recommend spending your honeymoon in Cappadocia to make it unforgettable and unique. We offer you a list of 10 reasons to make your first days together memorable. Here are 10 reasons for a honeymoon in Cappadocia!
Unique Nature at Any Time of the Year
Every season in Cappadocia has its unique color and atmosphere. The tops of the hills are painted white in the winter, a quiet and cheerful atmosphere in the summer, and a boiling stream in the spring.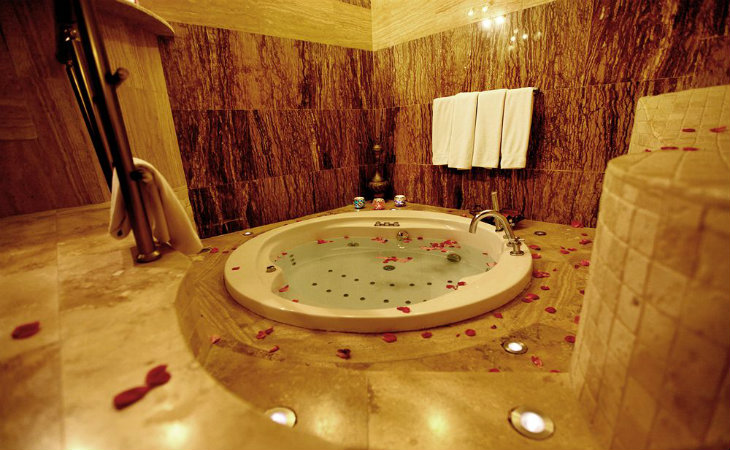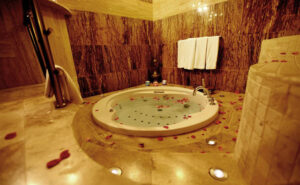 Entertainments and other activities, especially the Cappadocia hot air ballon festival, await you in summer, and magical landscapes that don't fit into camera lenses in winter. You can go to Cappadocia any time of the year; you will definitely be satisfied.
You will be able to walk hand in hand in the valleys, pick fruit from the trees, watch the dance of butterflies, and listen to the songs of the birds.
Honeymoon in Cappadocia: Many Options for Accommodation
You will have a lot of fun on your honeymoon in Cappadocia. With rose-scented pillows, special treats, and incredibly romantic rooms, Cappadocia hotels compete with the best in the world.
You can look at completely different options for Cappadocia hotels. You can stay in cave hotels or restored stone buildings with their pools, spas, and rooms in retro or modern style.
In winter, you can sit by the fireplace, sip wine, and enjoy the view of the snow-covered valleys and the summit of Erciyes Mount. You can also see hot air balloons and flying pigeons from your room window.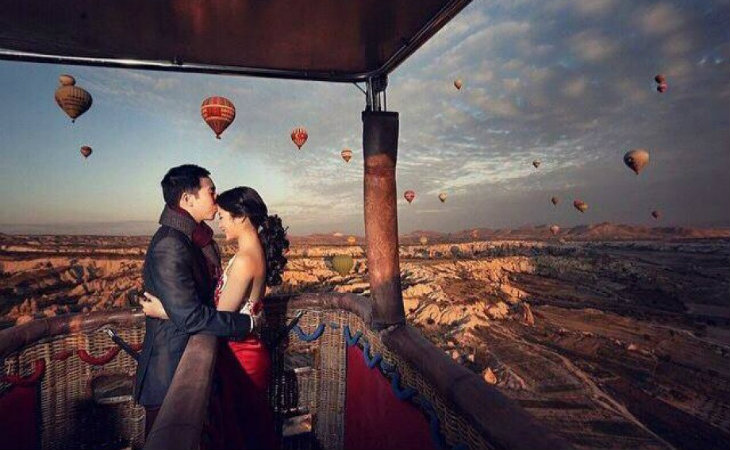 To find the most suitable option for your couple among all these valuable options, we recommend that you review the options in advance, learn about the special conditions for honeymooners and book your dream hotel on time.
Excellent Cuisine and Unique Dishes
You can get acquainted with the traditional cuisine of these places; in addition, many restaurants have European and other world cuisines.
Some of these restaurants are located in hotels and are famous for their signature dishes. For newlyweds in such places, they can put on a whole show with a scattering of rose petals and musicians around the table. You will be impressed by the interiors, decor, and service worthy for every special occasion.
Hot Air Balloon in Cappadocia
Experience a unique honeymoon in Cappadocia. What could be more romantic than flying into the sky in a balloon with your loved one and watching the magical landscapes of Cappadocia that you can't see anywhere else?
Having met your soul mate in a hug at the peak of sunrise, you will leave these memories in your heart for a lifetime.
Interesting and Romantic Activities
You can ride a horse even if you have never tried it before. You will offer a jeep safari or an exploration of the mountainous terrain on ATVs for lovers of something more active.
Sunrises and Sunsets
You can watch the incredible beauty of sunrise and sunset every day.
In the evenings, everything is painted in pink-red colors, rocks, stones, magic chimneys, and roofs, and you sit on the terrace and watch this play of color and light, raising a glass of wine to love and beauty!
Creativity and Craft
In Avanos, a place famous for pottery, you can choose from various souvenirs and, best of all, test your creativity by trying yourself as a potter. The material for all products is red clay from the banks of the local Kizilirmak river (Red River).
Underground Cities
In Cappadocia, tourists ask whether they fear enclosed spaces before descending into the underground cities, and if there're, they advise to think carefully before going down.
But how can this activity scare you? You will be able to navigate narrow underground corridors holding hands and feeling like the protagonists of an adventure movie.
Time Travel
Time travel awaits you with your honeymoon in Cappadocia.
Cappadocia is a unique place with intense energy and historical spirit. Here it is easy to feel how time stands still and even takes you back to the past.
Everything about this place is breathtaking and awe-inspiring—valleys with strange frozen rock figures formed during the birth of life on our planet. For thousands of years, the frescoes left by the first Christians didn't lose their color.
Nightlife in Cappadocia
In the evenings you can find entertainment according to your taste, dance, eat and listen to the musicians. Bars and restaurants with live music and cafes in caves are at your service. Folk art (Turkish Night) shows organize for tourists.
Finally, we add that after a honeymoon in Cappadocia, you will have stunning photos and even more vivid memories for a lifetime. We wish you a happy family life in advance! You can always ask us any question you have in mind.