You may be surprised by the most popular natural beauties in Turkey. Turkey is becoming an increasingly popular destination. It's among the top ten tourist destinations globally regarding tourist flow. What are the most popular natural beauties in Turkey? If you're curious, keep reading!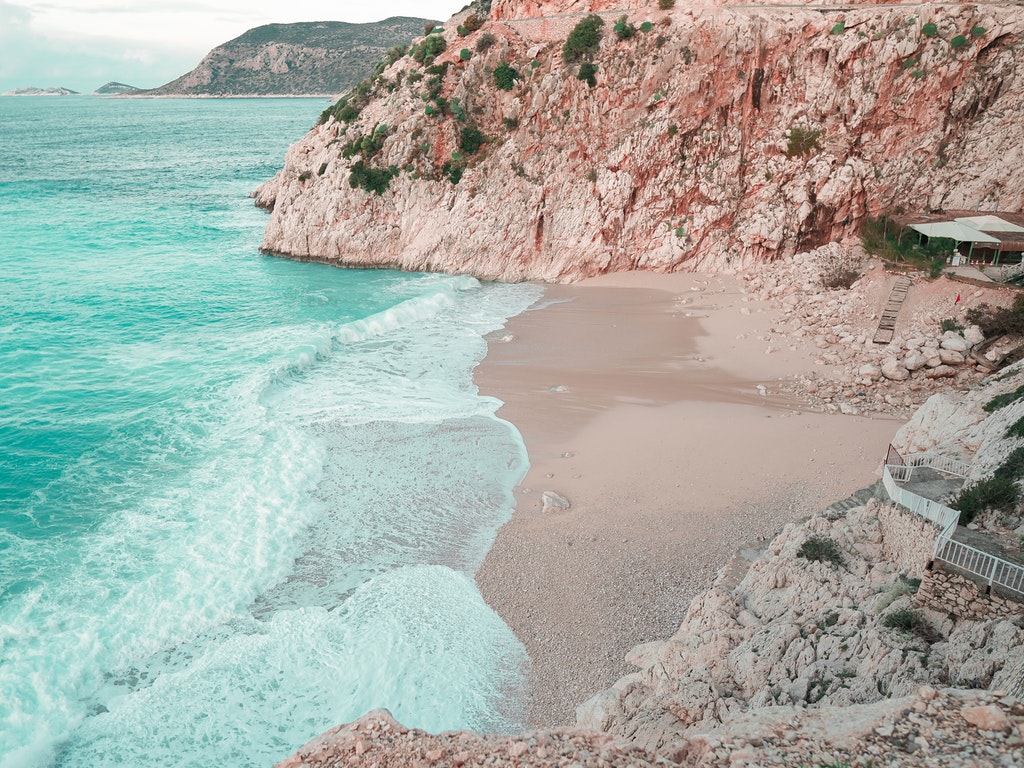 Perhaps the secret of this country is its geographical location and history. The territory of this state, located on the border between East and West, hosted different populations and gathered the works of other cultures. No wonder it has seen world-class architectural and artistic work flourish.
So let's explore Turkey's most popular natural beauties for tourists from all over the world and find out the most critical information for organizing a trip to Turkey.
Most Popular Natural Beauties in Turkey: Pamukkale
Among the natural wonders of Turkey, Pamukkale is perhaps the most shocking one. Nominated for the World Heritage List by UNESCO, this region is known for its extraordinary terraces formed due to the erosion of limestone waters over time. The result was natural thermal baths.
These white terraced pools cover an impressive area of ​​2.5 kilometers long and 150 meters high. Between them, you can admire several white waterfalls later. Feast your eyes and take a bath: The warm thermal waters are really inviting, especially in autumn and spring.
Cappadocia
Cappadocia challenges Pamukkale as a natural wonder of Turkey. But what sets it apart is the human intervention in the landscape: It's enormous but nothing short of magnificent.
In Cappadocia, you will find yourself in front of a panorama carved into miles of honey-colored rock. These lands, drawn by the lava rock, were colonized by people over time, and it's now possible to admire Byzantine rock churches, underground cities, and lodgings from ancient caves. It's also possible to admire the admirable frescoes in many of these buildings of the past centuries.
In short, you can describe these places as almost impossible and fairy tales with their unique beauty. Between its canyons, caves, and underground passages, there're also small reliefs of volcanic rock: Truly unique!
Whether you are in Kayseri, Goreme, or Urgup, it will always be possible to experience different experiences, such as getting on a hot air balloon at dawn to explore this magical region! The most popular place for these scenic tours is Goreme Valley, now considered a National Park and UNESCO World Heritage Site.
Cleopatra's Beach
Located to the west of Antalya, it's the beach where, according to legend, Mark Antony took Cleopatra to rest. Cleopatra didn't want to set foot in any country other than Egypt, so Marco Antonio had sand brought here from Egypt.
The beach is named after Cleopatra. An unusual story, but the white sand and crystal sea of ​​this place justify a lot of imagination.
Sehriban Canyon
Thanks to its steep slopes, this canyon has immediately entered the radar of experienced nature lovers. The rock formations really make for fascinating images.
Of course, it's necessary to join the boat tours organized to see these formations closely. The journey can be pretty bumpy in some parts. But the result is more than worth the adventure.
Boraboy Lake Nature Park
Suppose you want to get away from the chaotic environments and spend a few days alone with natural beauties. In that case, you can go to Boraboy Nature Park, which is 22 kilometers away from the Taşova district of Amasya. Boraboy, which is likened to Uzun Lake in Trabzon due to its shape, has moved away from its natural appearance due to its huts.
Despite this situation, the nature park welcomes its guests with different views in every season of the year. Therefore, it's one of the most beautiful places in the region in terms of nature photography.
Of course, there is also the biodiversity dimension of the work. You can easily observe many creatures, especially different bird and turtle species, in their natural habitats.
Nemrut Mountain
One of the first places that attract attention among Turkey's natural beauties is Nemrut Mountain.
Nemrut, built during the Commagene Kingdom in ancient times, has brought many historical artifacts from that period to the present day. It also draws attention with its gigantic sculptures. It also hosts the 2100-meter-high tumulus of Antiochos, King of Commagene.
Salt Lake (Lake Tuz)
Salt Lake, one of the must-see natural beauties in Turkey, continues to attract its visitors. This lake, the second largest lake in Turkey, is located in the central parts of the Central Anatolia region.
The lake can meet 40% of Turkey's salt need on its own. In addition, Turkey's most important natural gas storage is being built in the lower parts of the lake. Local and foreign tourists visit the lake every year.