With Cappadocia hotels, you will find much more than how you want to spend your holiday. With Urgup, Uchisar, Goreme, Avanos and Ortahisar hotels, you can stay comfortably at the hotel as you wish in all regions of Cappadocia. During your stay in Cappadocia, you can benefit from breakfast, room only, half board, and many types of accommodation.
One of the reasons Cappadocia is so famous is that it has hotel themes that you can hardly find elsewhere. Excellent accommodation opportunities are offered to visitors with a variety of accommodation options. Cave hotels will fascinate you and give you the experience of traveling back in time.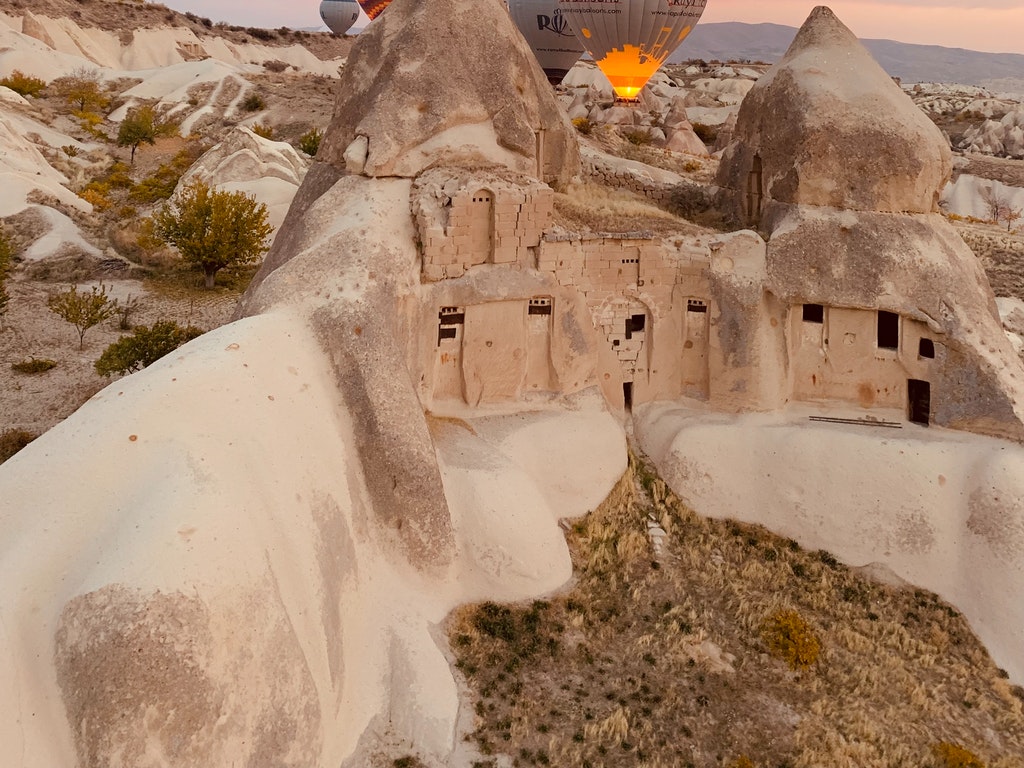 Cappadocia Holiday with Hot Air Balloons
Cappadocia is one of the rare places in the world with mystical beauty. With its fascinating natural structure, history, iconic balloons, and scenery, it begins to impress you from the moment you step into Cappadocia. Cappadocia, which hosts the best balloon tour in the world, is one of the most impressive holiday destinations.
The formation of interesting landforms in Cappadocia dates back to 70 million years ago due to volcanic eruptions. These geographical structures later called fairy chimneys, become this way by being shaped in the rain and wind. If you have seen Cappadocia, you can add yourself among the lucky people who have seen these structures in the world.
You definitely don't want to miss the pleasure of seeing all the beauties accompanied by balloons. Along with this view, the balloons themselves create magnificent views in the sky.
As you prepare to watch the earth, you can find yourself watching the colorful landscape created by the balloons above. We are sure you will feel you have moved away from worldly life by changing dimensions in this beautiful environment.
Affordable Price Advantages in Cappadocia Hotels
Cappadocia hotels meet you with affordable price advantages. Although Cappadocia hotels actively host visitors every season, the summer and spring months are in high demand. Cappadocia hotels, with early booking opportunities, you can make your holiday more convenient.
Since Cappadocia has a wide range of hotels, from cave hotels to boutique hotels, design hotels, and even hostels, it is easy to find a hotel for every budget! If you want to make a reservation in Cappadocia hotels, you can contact us immediately.
Hotels in Cappadocia Near the Airport
Since Nevsehir Airport is located in the town of Cappadocia, you can easily reach it if you want to visit Cappadocia. Thus, every hotel you keep in Cappadocia will be located close to the Airport.
It is really a great advantage for you that you don't have to go through great trouble to reach your holiday area after getting off the plane! You can easily reach the hotel where you will stay, either on foot, by using the service lines, or by a taxi at an affordable price.
Urgup Hotels
Cappadocia Urgup hotels are among the most popular regions. With many different options, you can do it in Urgup hotels how you want to stay.
Urgup is just one of the regions that stand out with its cave hotels and stone hotels. The time you will spend here will pass in a very mystical atmosphere.
It is almost impossible to taste the experience you will have in cave hotels anywhere else! In addition to cave hotels, you have opportunities such as boutique and budget hotels with fireplaces.
Uchisar Hotels
Cappadocia Uchisar hotels fascinate their visitors with their views. Nobody would say no to staying in natural beauties in magnificent stone structures. Uchisar hotels meet all of these. During your time here, you will feel like you have traveled through time.
Goreme Hotels
The spirit of the region entirely arranges Cappadocia Goreme hotels. Goreme Hotels, which can offer modern hotel services with stone structures, are popular Cappadocia hotels.
Avanos Hotels
Cappadocia Avanos hotels are among the places preferred by holidaymakers who do not want to stay in place due to their proximity to the natural beauties and underground cities of Cappadocia.
Avanos, which has magnificently designed hotels, offers its customers a magnificent experience with cave hotels and stone structures.
FAQ
Can I Have A Holiday in Cappadocia Thermal Hotels?

Since Cappadocia is rich in thermal regions, there are many hotels where you can get thermal service. These hotels are spread all over Cappadocia. In other words, you can also benefit from thermal services while staying in the region you want.

Can I Have A Holiday in Cappadocia Hotels with My Pet?

Hotels serving pets in Cappadocia are called pet-friendly hotels. In these pet-friendly hotels, you can stay with your pet with peace of mind. These hotels also provide special services for your pets. Due to the hygiene measures taken due to the coronavirus epidemic, pets may not be accepted in some hotels.

Do Cappadocia Hotels Have Spa & Wellness Service?

Yes! You can benefit from the best quality spa & wellness services in Cappadocia hotels. In terms of thermal service, Cappadocia hotels are among the popular places because they have experienced personnel.