Hagia Sophia (Ayasofya in Turkish), along with the neighboring Topkapi Palace, can be considered the best and most visited attraction in Istanbul. Hagia Sophia is an old church and museum, declared one of the world's greatest works of architecture and accepted as the 8th wonder of the world.
Hagia Sophia, built as a church in 325, was rebuilt in 537 and converted into a mosque by Mehmed II after the conquest of Istanbul in 1453. Museum since 1935, mosque since July 10, 2020.
Facts About Hagia Sophia
Originally built in 325 AD as the world's largest house of worship, it was destroyed twice and rebuilt thrice.
After the conquest of Istanbul by the Ottoman Empire in 1453, it was converted into a mosque.
Turkey transformed this important building into a museum in 1935.
July 10, 2020, was officially declared a mosque.
History of Hagia Sophia
Roman-Byzantine period: This structure was built in 325 by the order of Emperor Constantine. After a strong earthquake in 360, the building was restored by Emperor Constantine and was called the 'Great Church.' Until the Byzantine Emperor Justinian (527-565), the structure suffered many times due to riots and great fires and was repeatedly restored.
Finally, it was rebuilt by the order of Emperor Justinian under the guidance of famous architects Anthemius and Isidore. Hagia Sophia was the largest church and was used as a church for 916 years. Emperors were also crowned here until the conquest of Istanbul by Mehmed II the Conqueror in 1453.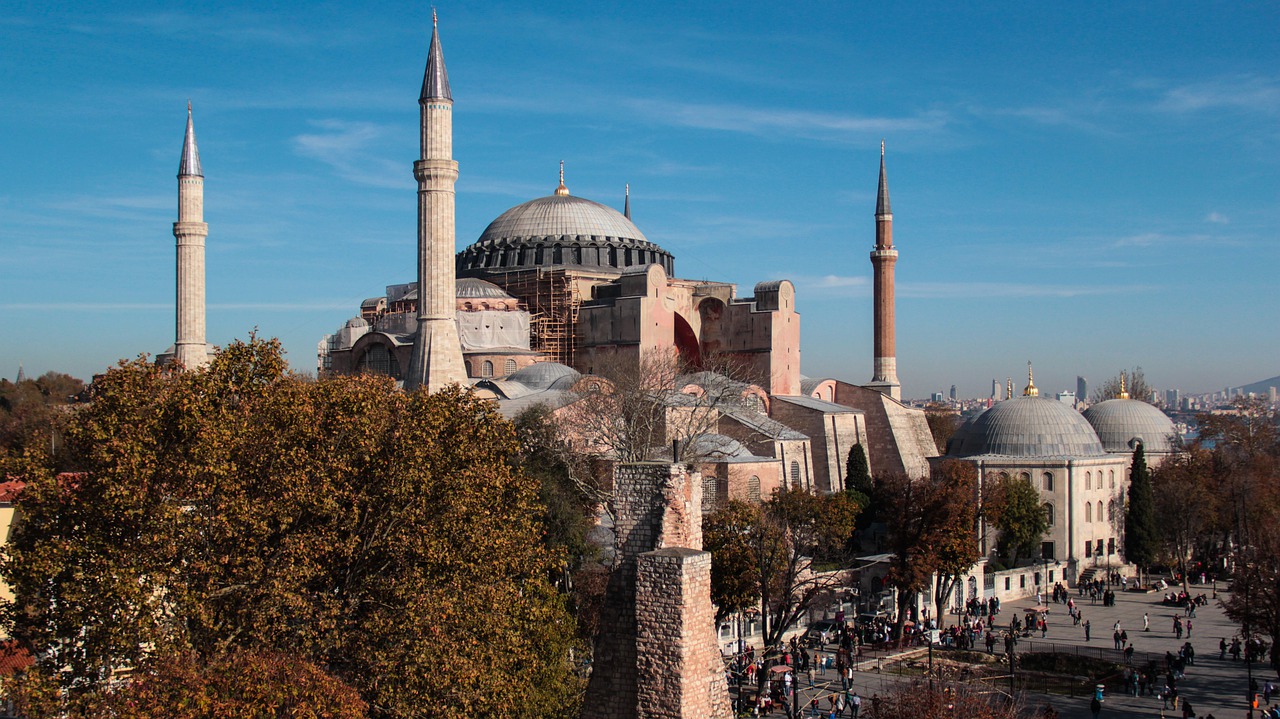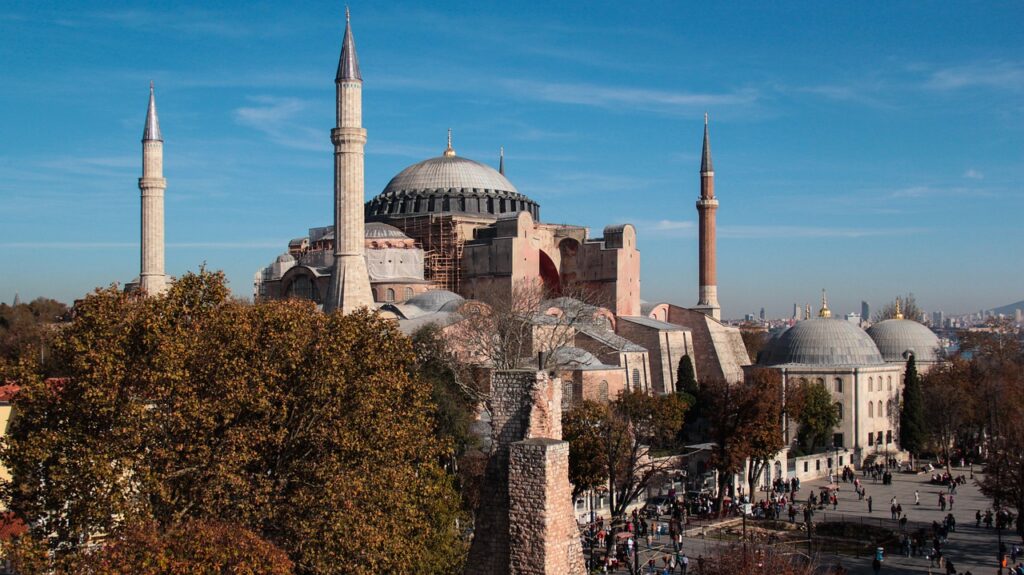 Ottoman period: Mehmed II converted the church into a mosque after the conquest of Istanbul. This structure was used as a mosque for 482 years.
During the Ottoman Empire, the sultans gave particular importance to this structure. Every effort was made to protect and support Hagia Sophia, the symbol of the city's conquest.
Republic of Turkey period: After the establishment of the Republic of Turkey, this structure was closed for restoration work from 1930-1935. This essential structure was converted into a museum in 1935 by order of Atatürk, the founder of the Turkish Republic, and by the decision of the Council of Ministers.
Tips for Visiting Hagia Sophia
It doesn't matter whether you are a Muslim or not, anyone can enter easily.
We ask you to observe the prayers performed in the mosque, not to make noise, and not to run or stand in front of the worshipers.
Some parts of the mosque used for worship are temporarily closed to visitors during Friday prayers at noon.
Women must cover their heads when entering. You can get a headscarf for free at the entrance.
Photographs are allowed, but worshipers should not photograph.
The Cathedral offers guided tours.
It is better to know every detail and history and explore the architecture, mosaics, imperial dome, upper galleries, and decorations from past to present in detail with a guide.
In addition to visiting the cathedral, you can also visit Topkapi Palace and the Basilica Cistern, which are within walking distance.
Hagia Sophia is mainly visited during the daytime because, during these hours, a soft natural light comes in.
Paying attention, making eye contact, and talking to beggars. Avoid praying at noon on weekends and Fridays if possible, as there are more people at this time.
Why is Hagia Sophia Valuable in Istanbul?
It is declared one of the world's most significant architectural monuments and is considered the world's eighth wonder. It got this name because of its unique architecture and is the world's most prominent place of worship.
What Does the Name of Hagia Sophia Mean?
This structure in Greek means 'sacred wisdom.'
What is the Cathedral Used Today?
It uses as a mosque. Tourists can enter at any time except during prayer times.
Is Hagia Sophia Free?
Yes! This vital structure is now free.
How Long Can You Stay in Hagia Sophia?
After logging in, you will be able to stay in the mosque as comfortably as you want. Tourists usually spend about two hours studying architecture, mosaics, buildings, imperial dome, upper galleries, and much more.
When is the Best Time to Visit Hagia Sophia?
Hagia Sophia is open 24 hours a day, every week. The best time to visit Hagia Sophia is between 09:00 in the morning and noon, the quietest hour.
What are the Opening Hours of Hagia Sophia?
It is open every day.