If you have planned to go from Istanbul to Cappadocia, you're on the right track. If you're vacationing in Istanbul, one of the best ways to start is to visit the Cappadocia region, but what are the transportation alternatives? Today we will reveal them all!
When talking about a visit to Cappadocia, it is essential to clarify that it isn't a city in itself but a region within the borders of Istanbul. This region is famous for its strange and unique geological formations millions of years old. The provinces that partially form Cappadocia are Aksaray, Nigde, Kayseri and Nevsehir.
If you have enough time, visiting Cappadocia is one of the best things to do in Turkey. Here are alternative and fast ways to go from Istanbul to Cappadocia!
Best Way to Reach Cappadocia: An Organized Tour from Istanbul
Visiting the Cappadocia region with a guided tour is the best alternative, as the guided tour will take you to the most exciting areas and sights. All this without the many planning details that a large-scale adventure requires.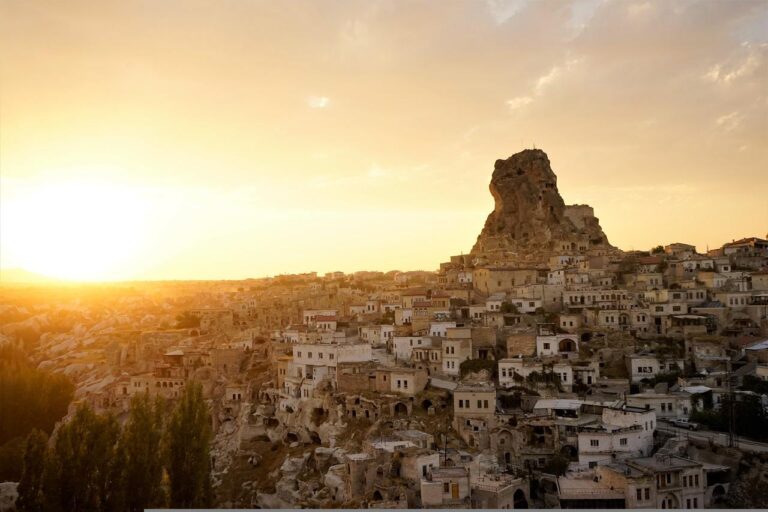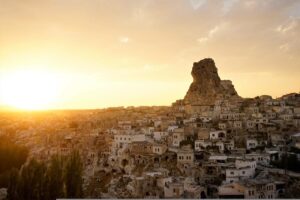 Also, this is one of the best tours to take from Istanbul. That's why you'll find many quality local companies offering this service to travelers. Your task will be to do your homework to research options that fit your itinerary and budget.
Since the distance between Cappadocia and Istanbul is a bit long, tour operators offer many different options. Tours range from 2 to 7 days, depending on the route and the areas to be visited.
Flying from Istanbul to Cappadocia
When planning a short trip to Istanbul, you need a fast and inexpensive way to get to the Cappadocia region. In this case, we recommend you a direct flight alternative between two cities. The only drawback of this option is that it doesn't allow us to enjoy the sights of Istanbul.
If you decide to travel to the Cappadocia region by plane, it is essential to keep in mind the two main airports where most of the flights departing from Istanbul Airport (IST) arrive.
Kayseri Erkilet Airport (ASR): It is located in Kayseri city, approximately 80 kilometers from the tourist area of ​​Cappadocia. Kayseri Airport bus services are the best transportation between the two points.
Nevsehir Cappadocia Airport (NAV): It is a small airport located in the north of Gulsehir city, 40 kilometers from the touristic area. The best means of transportation between two points is a taxi.
Finally, consider Istanbul airport transfer services instead of public transportation if you want to save much more time.
An Economical Option: Take the Istanbul- Cappadocia Train
The Istanbul high-speed train is the best alternative for intercity travel if you have an unstructured and flexible route. Although Cappadocia is a bit far from Istanbul, you can customize your itinerary without breaking your budget to get the most out of your trip by visiting tourist attractions.
There is a high-speed train line between Konya, Ankara and Istanbul. If you have five or more days to spend in Istanbul, you can spend the first five days in the city, and the rest in the surrounding areas, by taking advantage of the high-speed train service and stopping by all these points.
Most Flexible Option: Traveling from Istanbul to Cappadocia by Car
A great alternative if you have an adventurous spirit and the will and time to plan a trip down to the last detail. If you choose this option, here are some helpful tips to keep in mind.
Driving in Turkey isn't difficult; the main roads are well paved, and the most popular tourist attractions and historical sites are well marked, making them easy to find.
The most significant advantage of renting a car in Istanbul will always be the ability to customize the itinerary to your liking. For example, you can prepare to drive through the Anatolian countryside from Istanbul to Cappadocia and discover attractions on the way.
Travel by Bus from Istanbul to Cappadocia
It is good to know that it is possible to travel from Istanbul to Cappadocia by train, although it isn't an option we recommend due to the length of the journey and the inconvenience of the means of transport.
Because of the distance, companies operating between the two routes don't have direct routes but interconnected routes, where some passengers get off and others take their places. This solution has advantages and disadvantages because even if the journey is long, you can take the opportunity to take 1/2 day sightseeing tours in some destinations independently. The traditional route from Istanbul to Goreme in the Cappadocia region includes stops in Ankara and Nevsehir.
Can You Travel from Istanbul to Cappadocia by Train?
As we explained above, there is no direct train from Istanbul to Cappadocia. However, you can travel by train by choosing close routes.
How Long is the Train Ride from Istanbul to Cappadocia?
The train journey from Istanbul to Cappadocia can take an average of 11 to 15 hours.
Can You Do a Day Trip from Istanbul to Cappadocia?
Of course, there're day trips from Istanbul to Cappadocia. These trips include outbound and return flights and stay at local hotels.
Is Cappadocia Worth Visiting?
Cappadocia is a region worth seeing. Cappadocia has unique natural beauties unmatched anywhere else in the world. Fairy chimneys, Goreme churches, and underground cities are among the most important places to see.
How Many Days Do You Need in Cappadocia?
You can plan a holiday in Cappadocia as you wish. However, we recommend staying in Cappadocia for at least one week.
How Much Does Hot Air Balloon Ride Cost in Cappadocia?
A hot air balloon tour in Cappadocia can be expensive, but it's worth it! Cappadocia hot air balloon costs range from $140 to $250.