After reading our places to visit in Cappadocia guide, you will be able to travel easily by yourself. Cappadocia is probably the most famous region of Turkey. Whether partly for the iconic image of colorful hot air balloons, partly for its natural heritage, in recent decades, Cappadocia has established itself as a top-level tourist destination.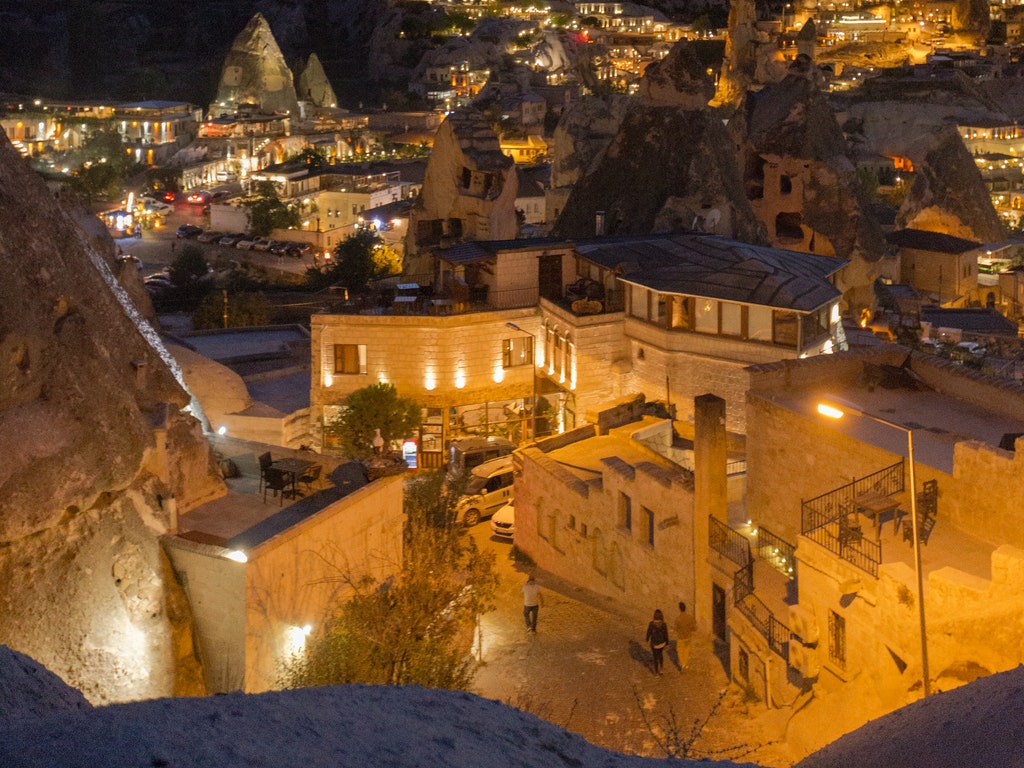 Coveted all over the world, Cappadocia is a destination to be appreciated as an excursion destination:
An open-air museum made up of underground cities
Huge canyons with a multitude of colors
Rock churches with a unique charm
It isn't easy to describe what emotions you can feel once you arrive in this region, but what treasures Cappadocia offers is much easier to explain instead. So let's find out what to see in Cappadocia and all the information you need to visit the region. Here are the places to visit in Cappadocia!
Places To Visit in Cappadocia: Hot Air Balloons
Nothing is more representative than the hot air balloons of Cappadocia. It's probably the first image that comes to mind when imagining this region. Every morning, at dawn, hundreds of vast balloons of different colors, patterns, and shapes can be admired above the skies of picturesque Goreme, giving a suggestive and somewhat unique atmosphere.
An even more exciting experience of admiring the hot air balloons is to climb up and admire the panorama from Cappadocia directly from the large baskets in flight. Of course, not for the faint of heart- albeit entirely safe and not very claustrophobic- but it remains a memorable emotion to get on a hot air balloon in Cappadocia. Unlike what is often believed, hot air balloons don't take off 'on certain occasions,' but daily, as they have become the main tourist attraction in the area.
Valley of the Fairy Chimneys
The Valley of the Fairy Chimneys is another genuinely iconic place in Cappadocia. The valley is accessible through Paşabağ, a small town leading to Zelve, halfway between Goreme and Avanos. This vast geographical area is dotted with suggestive rock formations known, in fact, as Camini Delle Fate.
The term comes from a popular denomination, given by the rocky reliefs composed of a tuff prism (or to lesser extent silt and volcanic rock) that branch upwards. There are several similar ones in the world. These formations are called Hoodoo in English and can be identified in Utah and other European places, such as Austria, Bulgaria, and Serbia.
Goreme National Park
Goreme National Park is one of the most important protected areas in Turkey. The park, which takes its name from the same name, is characterized by a series of picturesque, unspoiled valleys. Every hiker's dream is the majestic Sunset View Point, reachable on foot, from which you can enjoy one of the most spectacular views in the world. The best time to visit the Goreme National Park is when the sun rises (or sets), from which you can admire genuinely beautiful views. Access to the Sunset View Point may be subject to a toll payment, which isn't clear whether it is permanent or seasonal.
The Open Air Museum of Goreme is significant. As the name implies, it represents a museum area of ​​historical and cultural interest in the open air in the town of Goreme. Reiterating that ​​the Goreme National Park area has been recognized as a World Heritage Site since 1985, this open-air museum is characterized by many churches, chapels, and monasteries carved into the rock. In ancient times, the area in question was an essential Byzantine religious settlement, consisting of a small community of about twenty monks, from which it progressed over the centuries to host a place of refuge for large Christian communities.
The Underground Cities of Cappadocia
Cappadocia is also well known for being an area rich in underground cities. The most famous of these numerous underground cities are Derinkuyu- the most visited by tourists- and of Kaymaklı. The first is located just over thirty kilometers south of Göreme and can be easily seen through guided tours offered by numerous travel agencies and hotels.
According to the studies conducted, the city seems to rise on eight superimposed levels, which reach a maximum depth of 85 meters. Only four of these eight levels are accessible to the public for the safety and maintenance of the structure. A fully autonomous city, able to accommodate up to 20 thousand people, made up of countless stables, cellars, warehouses, and chapels.