Love Valley Cappadocia, which means love, is located in the heart of Cappadocia, between the cities of Goreme and Uchisar. The length of Love Valley Cappadocia is about four kilometers. The name 'Valley of Love' was due to the phallic shape of the stone formations resembling genitals. If you look at the Love Valley from above, you can see that it divides into two completely different parts. The part where the remains in the form of male genitalia find is considered the male half of the valley, and the soft and curved shapes of the other part are considered the female half.
Tall, mushroom-like rock remnants can be seen in Cappadocia and elsewhere, but Love Valley is particularly delicate and beautiful in Cappadocia. The origin of such forms is that of softer rocks – tuffs, which form the basis of the column, exposed to rain, wind, and temperature changes and gradually destroyed.
The upper part consists of dense basalt – this rock is much stronger than tuffs, forming a cone-shaped cap. Over millions of years, unimaginable natural sculptures like mushrooms have been created. Tourists who come to Cappadocia today can admire real masterpieces made by nature without human intervention.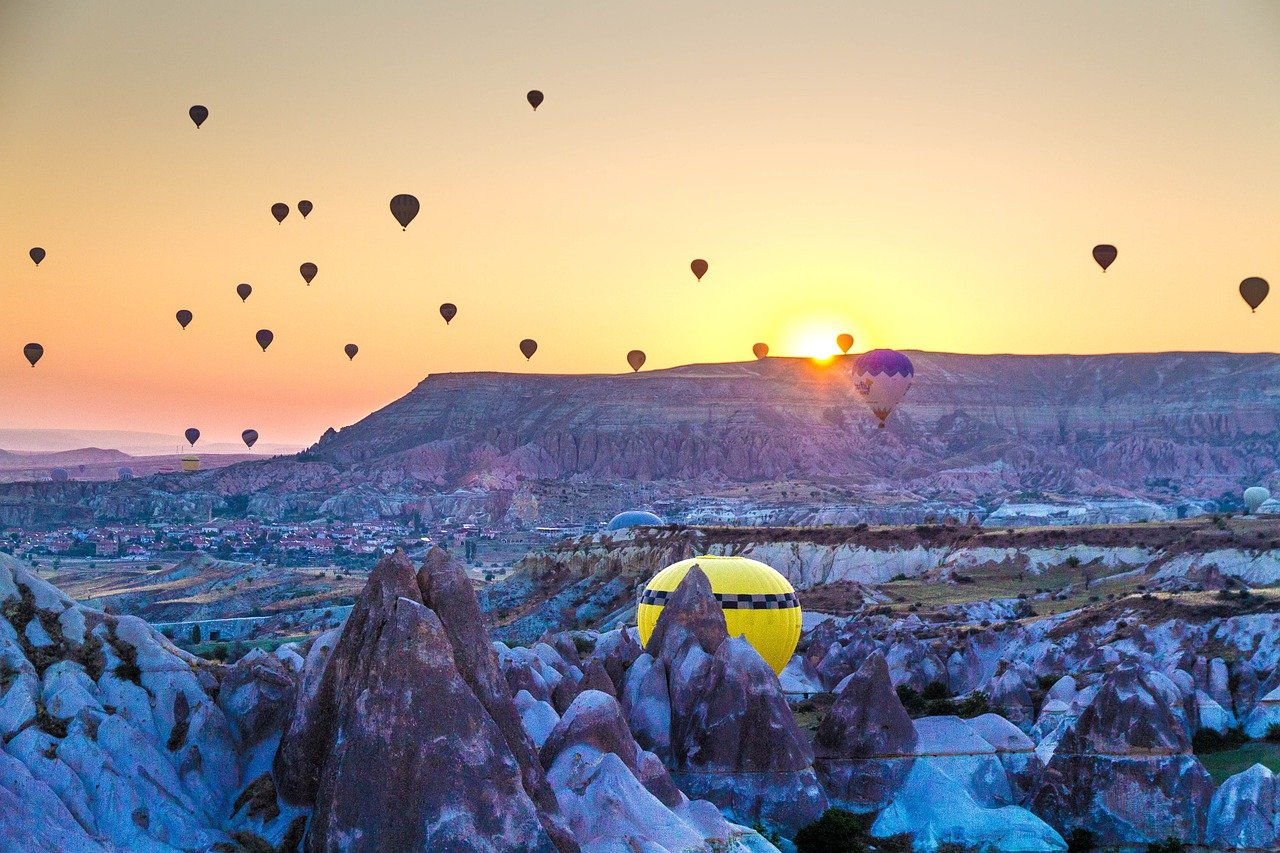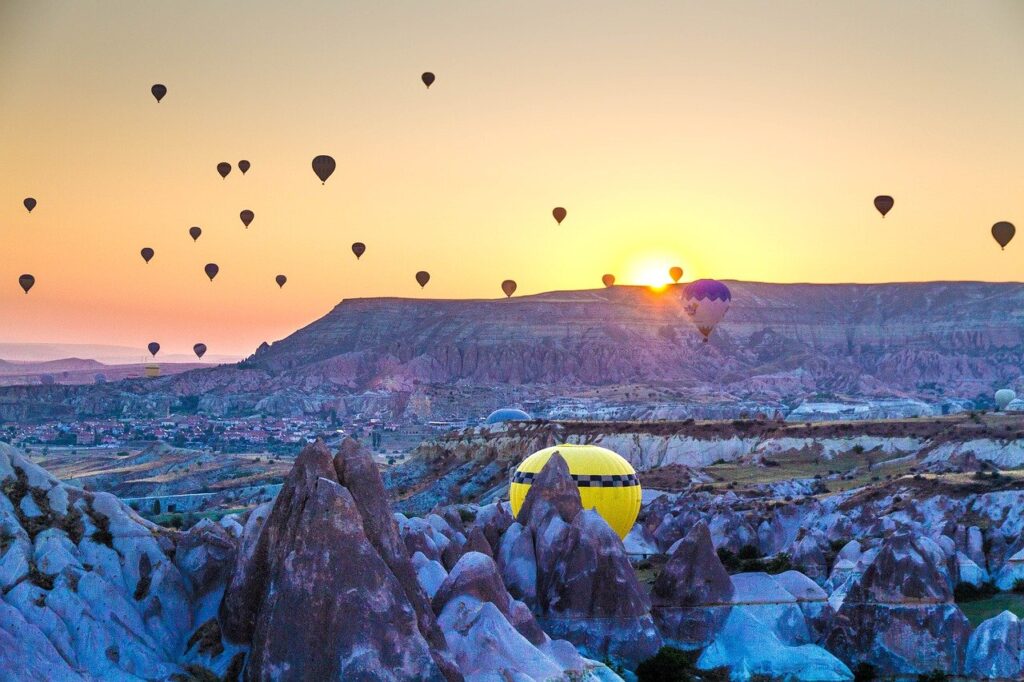 Many vineyards and fruit trees have been planted in the Valley of Love, adorning them with greenery. Tired travelers can relax in a small cafe between the male and female halves of the Love Valley. This is a great place to hide from the hot summer sun on a fantastic spring day or warm up with hot tea,
Love Valley Cappadocia mainly attracts the attention of tourists. This is the same mandatory item as the Cappadocia hot air balloon visit program.
What to say? The accumulation of narrow high pillars of a particular shape looks fiery and surprising. Also, this place is easy to reach. Therefore, if you have been to Cappadocia, you will most likely find yourself in the Valley of Love.
Where is Love Valley Cappadocia? How to Go?
Love Valley Cappadocia, this region that you can come across with many names, is within the borders of Nevsehir Goreme. At the same time, this region allows you to see all of Cappadocia. It is also straightforward to come to this beautiful place where you can take the whole area under your feet.
You can come here from your city, either by vehicle or bus. If you come on our tour, it will be an easier choice for you.
Love Valley is where you can admire nature accompanied by vineyards on the way to Cappadocia. If you also like walking and are used to nature walks, on the way from Goreme to Uchisar, just after the lower entrance, you will see the access to the lovers' hill.
There is a jewelry store next to this entrance, which will be on your right. When you follow this road, if you follow the road that diverges to the right from the two roads in front of you, you will reach the road you want to go.
This road can be a little narrow. We also recommend that you choose to walk, as the road is not suitable for vehicles in any way. You will come to very steep sections right after this road. It is helpful to be a little more careful in order not to have difficulty and fall while walking on the land consisting of tuff. When you pass this road, you will see the magnificent Love Valley Cappadocia view after an hour or so. Don't be intimidated by the tuffy streets. You don't need to go very organized like a hiking boat. You have to walk with a bit of care.
How to Get to Love Valley from Goreme?
The first option is to leave Goreme and go along the highway towards Cavusin or go up. There are buses from Goreme to Cavusin.
After 2 km, turn left onto the highway toward Nevsehir. On the left, a marker to the Valley of Love will display. There is a primer on the road. Follow up to the next mark. You can use map apps for this.
The second option is more interesting. Leave Goreme and continue along the highway towards Uchisar. Just outside Goreme, a trail leads up and to the right. Climb and continue along the dirt road parallel to the street to Cavusin. Thus, you can descend to the Cappadocia Love Valley.
Why is It Called Love Valley in Cappadocia?
We know Love Valley as one of the most mystical and exciting valleys of Cappadocia. It is located right between Goreme and Avanos road and takes its name from the very interesting fairy chimneys. It is a favorite place for many couples to propose marriage.
Why is It Called Love Valley Turkey?
The name of this place is love because Love Valley Cappadocia is really in the form of a man's genital organ. In addition, the valley is the region where many people propose marriage. You can also go to Güvercinlik Valley from this valley.
How Do I Get from Goreme to Love Valley?
For this, you can take a slow and leisurely walk from Goreme to the valley entrance. You can easily walk directly to Love Valley Cappadocia from Goreme.