Cappadocia in winter is another beautiful. The taste of visiting Cappadocia, which is beautiful in all four seasons, in the cold winter months is really different. Cappadocia, which conquered the hearts of travelers with its exciting history and magnificent natural beauties dating back to ancient times, is one of the few and unique geographical regions in the world. It has a highly mystical and romantic atmosphere.
In addition, although it has different beauties throughout the four seasons, Cappadocia becomes much more attractive, especially for the guests who will visit for such purposes in the winter months when the romance is at its peak.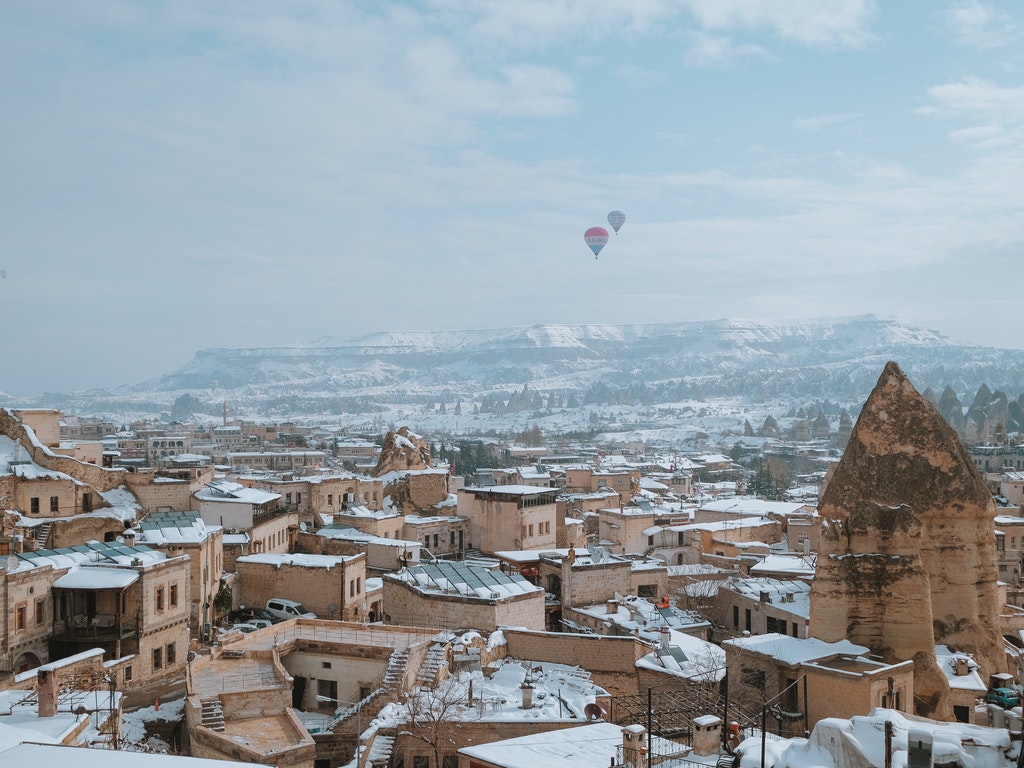 Although it is connected to Nevsehir province, we can say that Cappadocia, located at the foot of Erciyes Mountain in Kayseri, has its share of cold weather. If you don't like cold weather, you may have hesitations about travelling to Cappadocia in winter.
However, you can be sure that you will not regret it in any way. In addition, the cold weather in Cappadocia, which originates from the typical continental climate, not from the humid Balkan winds, guarantees that you will not feel out if you dress appropriately for the climatic conditions. However, the air temperatures are frigid in winter.
In short, you can do almost all of the excursions and activities you do in the high season, also in the winter season, quite comfortably.
Activities To Do in Cappadocia in Winter
First of all, we need to point out that Cappadocia offers fascinating landscapes and surprising stories to its guests in all four seasons. In other words, the rule of not going in winter and going in summer isn't valid here. Whatever kind of holiday you want, Cappadocia offers an alternative for your most enjoyable trip.
If you wish to winter in Cappadocia, you can choose the snow-covered fairy chimneys or the Erciyes Ski Center close to the region. What are you waiting for to enjoy the fabulous geography? Here are the activities you can do in Cappadocia in winter:
Hot Air Balloon Ride
Wouldn't you like to be in the colorful balloons floating in the sky and look at the white geography from above? You can be sure that what you see in summer is entirely different from what you see in winter. You will never forget the view.
Hot air balloons rise between 5.00-5.30 in winter before it gets bright. The moment the sun greets the day, Cappadocia takes on a unique view.
Horse Riding
Due to the geographical features of the region, motor vehicles cannot enter some places. Residents, who don't disturb the original texture, also organize horse-drawn excursions to these places.
By the way, a little reminder, the word Cappadocia means "land of beautiful horses." There is also a horse rehabilitation center for various ailments. In other words, the people of the region benefit from the healing power of nature in every way and offer it to their guests.
Safari Tour
In areas where motor vehicles cannot enter, horseback trips and safari tours with ATV and Jeep are organized. You go to a jeep safari with vehicles for five people. You will be visiting churches, valleys, and the most magnificent places of nature with the off-road vehicles you will ride.
Wine Tasting
There is a wealth of vineyards in Cappadocia. Natural wines are produced from these vineyards. Ultimately local and natural wines are offered to the visitors for tasting as well as sent abroad. Wine will be a good decision for the winter season in Cappadocia.
You can buy homemade wine from boutique wineries and serve it to your loved ones when you return home. If you wish, you can taste wine in places that make mulled wine.
Museums
There are many museums worth seeing, especially the Goreme Open Air Museum. Goreme National Park and Cappadocia were included in the UNESCO World Heritage List in 1985. Ancient underground cities, fairy chimneys, and historical ruins await its guests.
Are There Any Disadvantages of Traveling to Cappadocia in Winter?
As we mentioned above, although the cold doesn't create great difficulties thanks to the continental climate, the most significant disadvantage of traveling to Cappadocia in winter is the difficulties in transportation to Cappadocia in snowy periods.
Although transportation by road isn't usually a problem, transportation by air can often be a problem in snowy weather. Delays or cancellations on flights are unfortunately inevitable.
However, on the other hand, because Cappadocia doesn't have a high season in winter, in case of a possible delay, details such as date change can be resolved in a much shorter time and almost inexpensively.
What is the Weather Like in Winter in Cappadocia? How is the Climate?
In the Cappadocia region, which has the classical continental climate of the Central Anatolia Region, the weather is quite cold in the winter season, and the climate is quite challenging. It snows at least 3-4 times during the season, and the snow can stay on the ground for a long time.
The air temperatures, low even in the daytime, can turn frosty in the evening after sunset. Therefore, if you plan to travel to Cappadocia in winter, you should be prepared, dress appropriately for seasonal conditions, and take appropriate precautions for a comfortable trip.