There is an invisible city in Cappadocia, built on tuff and tuff. Carved into the rocks in Cappadocia, it's like visiting Turkey's matera, but with donkeys walking its streets and colorful hot air balloons flying in the sky.
Ortahisar locates in the center of Cappadocia, a historical region of Anatolia, a few kilometers from the more touristy Goreme. Although Ortahisar is one of the must-visit cities for an ideal Cappadocia tour, it hasn't lost its authentic spirit.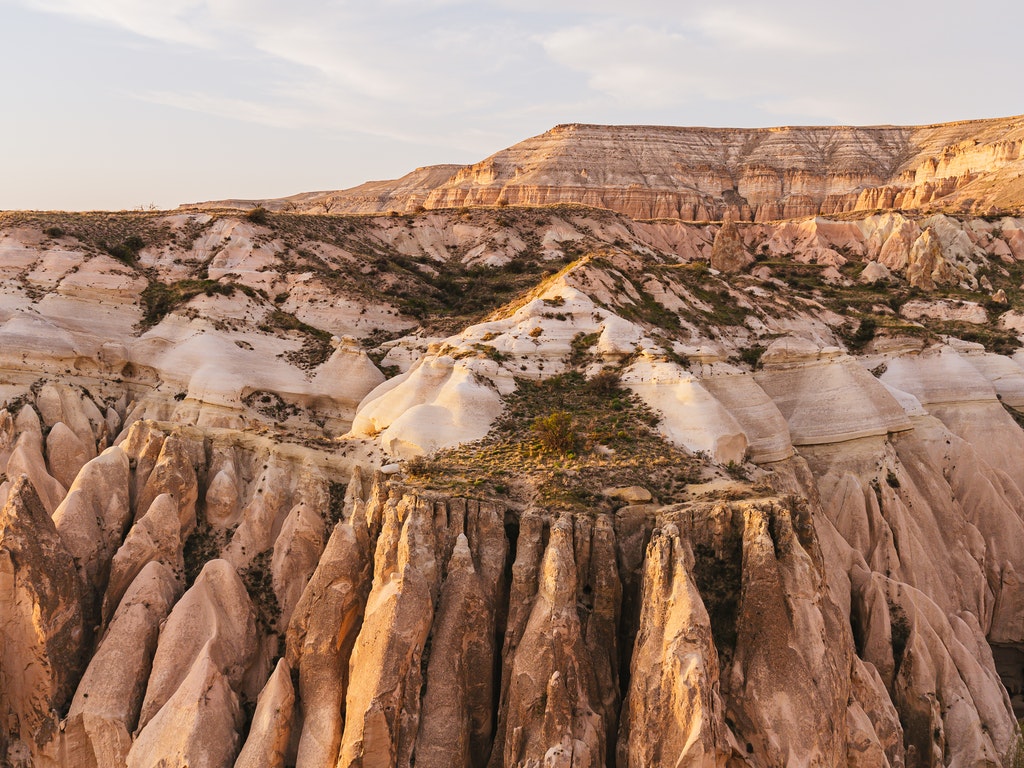 It is 6 km from Urgup. Regular buses depart from Nevsehir and Urgup to Ortahisar. The city's name derives from the castle overlooking it, built 86 meters above sea level, carved into the tuff on top of a vast stone chimney, the highest peak of Cappadocia.
It has been used for centuries as a defensive structure and accommodation. It has been open to the public since 2013 (8:00- 18:00 daily). Be prepared to climb steep walls and slippery and windy steps, and enter fascinating tunnels carved into the live rock.
What to See in Ortahisar?
Ortahisar Castle overlooks the characteristic town with its caves carved into tuff and famous Cappadocia architecture. Tuffy soil has been excavated for centuries to create structures useful for human life in brittle rocks.
Most of the caves are still warehouses used to store the region's agricultural products. The Culture Museum, which is also a restaurant, tells about the life and historical past in Cappadocia. It only takes twenty minutes to visit, which is an exciting 20 minutes.
What to See After Ortahisar?
After Ortahisar, you should also visit different parts of Cappadocia. The morphologically arid region has one of the most prosperous artistic, cultural and natural heritage in this part of the world.
Goreme Valley, which represents the center (both geographical and touristic) of Cappadocia, has been awarded as a UNESCO World Heritage Site. Cappadocia tour includes at least three days of accommodation.
With this in mind, it is recommended to stay overnight in the magnificent Avanos, a city that will have you reaching all the sights in a snap of your fingers.
At the same time, thanks to an ancient village still full of legends and traditions, it can offer you excellent and characteristic landscapes. Here you will find many restaurants and clubs where you can taste all the typical products.
In a warm and always friendly atmosphere that seems to have stopped a hundred years ago, you will find many small shops where you can admire small works of art by local craftsmen.
Hot Air Balloons of Cappadocia
While visiting Ortahisar and Cappadocia, you should definitely take a look at the hot air balloon. There is nothing more representative of Cappadocia than hot air balloons. It is probably the first image that comes to mind when imagining this area.
Every morning, at dawn, hundreds of giant balloons of different colors, patterns and shapes in the skies of picturesque Goreme give an awe-inspiring and somewhat unique atmosphere. We recommend setting the alarm at the first light in the morning (better when it's still dark!), so you can admire this exciting daily activity. We recommend staying between the resorts of Nevsehir, Uchisar and Goreme, so (if you're lucky) you can admire the show from your hotel's terraces. If you're staying further away, plan for a transfer.
An even more exciting experience of admiring the hot air balloons is climbing and admiring the panoramic views of Cappadocia directly from the large baskets during the flight.
Contrary to popular belief, hot air balloons don't fly on certain occasions; they fly daily as they have become the main tourist attraction in the area. There're days when flights cancel for meteorological reasons, but this only happens in case of strong winds, rain and snow.
The show is held from 05:00 to 9:00. That's why we reiterate our worry about waking up early to admire them. In a postcard of giant colorful balloons that color the sky and fly between the peaks of the mountains, you can admire scenarios from above that you cannot admire elsewhere in the world. After reviewing the situation above, you can indulge in one of the region's numerous trekking routes.