Devrent Valley or Imagination Valley is a must-stop for all tour groups coming to Cappadocia. You will definitely go along the Urgup highway with Avanos. Admire mystical landscapes for ten kilometers and strange mountain formations, some of which can be mistaken for people and animals.
The area of ​​this valley is vast; it takes a lot of time to explore, and you have to live in Cappadocia. Therefore, buses often stop at one or more places where the figures are particularly characteristic. That's when it comes to width for photographers.
Your imagination will activate and finish dozens of characters. Surprisingly, all this was created not by the hands of a sculptor but by nature.
Camel Rock
Camel rock is the most characteristic magical creature in Devrent Valley. You don't need to strain your imagination to see a camel in a rock formation; it can view by everyone simultaneously.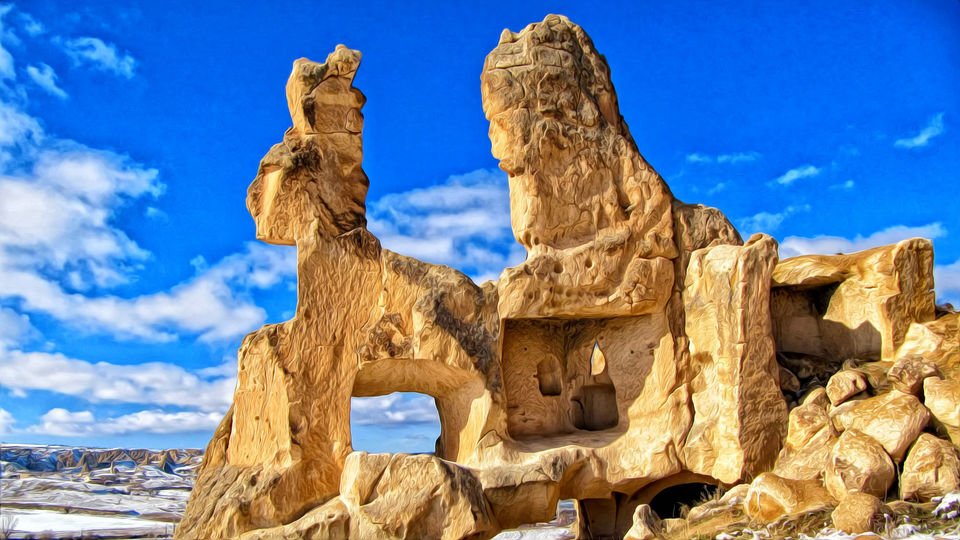 Admiring this figure, one never ceases to admire the fantasy of nature, which created this masterpiece over millions of years. It is unknown how long a camel figure will last. You are lucky, though – you have seen this miracle of Cappadocia and visited the magnificent valley that takes you away from the gray everyday life and serious worries. It's worth coming here just for that!
Practical Information About Devrent
Devrent is full of hiking trails, and you might want to spend a whole day here. If you decide to go for a long walk, wear comfortable shoes and don't forget to take water with you. Also, be aware that some slopes of the valley are pretty slippery.
Devrent Valley is on the Urgup to Avanos highway, a ten-minute drive from Goreme. You can combine a walk in this valley with a visit to Zelve. On the Urgup bus with Avanos, ask the driver to drop you off at the right place.
What to See Near Devrent Valley?
Pasabag is one of the places where you will see the fairy chimneys identified with Cappadocia most intensely. To reach Pasabag, which has the highest fairy chimneys in the region with a mushroom cap and a height of up to 14 meters, it is necessary to take a detour from the Avanos to Goreme road to Zelve. Another name for the valley, known as the place where the first Christian monks, who got rid of the world business, lived, is the valley of the Priests.
Zelve Valley is approximately 1 km from Pasabag. Away, one of the oldest settlements of Cappadocia. Christianity first began to spread from here. While visiting the valley, you will encounter many churches, monasteries, and settlements, caves.
Known for its pottery, Avanos is one of the spots in Cappadocia. Watch the pottery making in Avanos, and even try making your own.
Where is Devrent Valley?
You should note that you can use two routes to reach the valley. The first and most preferred one is Avanos and Urgup road. When you use this road, you can get Devrent Valley from above and see it from a bird's eye view. You can also go by following Pasabag and Zelve road.
How to Get to Devrent Valley?
First, you take the Urgup road from Aktepe between Avanos and Cavusin and reach the valley. The distance between Aktepe village and the valley is 2.6 km. The distance between Devrent Valley and Avanos is 6.6 km, and the distance to Urgup is 5.7 km. Goreme Open Air Museum is 11 to 12 km away.
Where is the Devrent Valley?
Devrent Valley locates in the Cappadocia region. When you come to Nevsehir, you can visit the valley.
Devrent Valley Tour
You can check on our website north cappadocia tour. Also knows as Red cappadocia tour. Its include devrent valley region.